Music Releases 05-12-23
The Album [LP]
$29.99 29.99
The Jonas Brothers took the world by storm in 2019 with the surprise release of their critically acclaimed and widely successful single "Sucker" following a six-year hiatus. The triple-platinum single debuted at #1 on Billboard's Hot 100. Their third #1 album 'Happiness Begins' went platinum, and they recently celebrated receiving a star on the Hollywood Walk of Fame. Their next album 'The Album' will release on May 12, 2023 and was produced by Jon Bellion.
Resound NYC [Indie Exclusive Limited Edition Translucent Sun Yellow 2 LP]
$39.98 39.98
Moby's second album on Deutsche Grammophon following 2021's Reprise. Digging further into his catalog, Moby has reimagined fifteen of some if his most iconic tracks for his new album, Resound NYC. The album features tracks that he wrote between 1994-2010 while living in New York City, and the new versions feature a vibrant, brass-heavy sound.
Wilderness Within You [Indie Exclusive Limited Edition Autographed Maroon LP]
$22.98 22.98
It's been a time of intense, worldwide change over the past few years… or maybe it all depends on scale. Zooming out to a geological timeline, maybe not much has changed at all. On his sixth album Wilderness Within You, acclaimed singer/songwriter Parker Millsap explores this flux between the here and now and the big BIG picture, while reckoning with questions about humanity's place on this planet. The result is a study in contrasts: the personal versus the cosmic, sparse acoustic compositions sitting next to lush psychedelic improvisations. Above all, Wilderness Within You is an understanding of darkness while expressing an abundance of gratitude for life itself.

Born and raised in Purcell, Okla., a tiny town with a huge sky, Millsap learned early on how to express gratitude through song while playing gospel in the church band. Long-time fans will recognize the album's foundations – acoustic instrumentation and solid songwriting centered around Millsap's show-stopping voice. They'll also spot the evolution towards more experimentation and sampling from other musical cultures. Beyond the opening "Greetings and Thanks," which puts to music "The Thanksgiving Address" of the indigenous peoples of the Haudenosaunee Confederacy — all proceeds from the song will be donated to the Haudenosaunee Environmental Task Force — the album continues on with a series of auditory landscapes and thoughtful insights including "Running on Time," which contrasts a sweet message about patience with distorted electronic harmonies. The second half of Wilderness turns darker and moodier with the industrial, buzz-saw "Half a World Away," which finds Millsap questioning "who murders for my meat? who gets it here from there?" At the other end of the sonic spectrum is the beautiful, roots-y title track, a duet with the legendary Gillian Welch. The track illustrates Millsap's understanding of nature as something that humans are not separate from - that life is stunningly beautiful most of the time, but does contain streaks of darkness that are just as natural: "There's a field that's full of violets, there's a bruise that's purple brown / There's a little bit of violence, and a lot of fertile ground."

In a broader sense, Wilderness Within You poses many weighty questions without easy answers. While Millsap can feel deeply discouraged by the way things are going wrong in the world, especially with the climate crisis, Wilderness Within You is threaded with hope and thankfulness for all we do have. This idea is beautifully etched on "Magic," an anthem about the power of paying attention – a torch song perfect for listeners to join in and belt along to.

"I really do want people to feel the magic," Millsap said, echoing lyrics from the song. "It's out there."
Never Enough [Orange 2LP]
$29.99 29.99
Singer/songwriter and multi-instrumentalist Parker McCollum is following up his breakout major label debut, Gold Chain Cowboy, with his forthcoming studio album, Never Enough, out May 12 (MCA Nashville). McCollum earned his first-ever No. 1 hit with his double-platinum certified premiere single, "Pretty Heart," and his follow-up gold certified single, "To Be Loved by You," also hit No. 1 on the charts.
The Love Invention [LP]
$26.98 26.98
Alison Goldfrapp has set a towering bar for British synth-pop in the 21st century and she's only just getting started. The magnetic London-born singer, songwriter and producer's seven albums with Goldfrapp were fuelled by an unfailing modernity and a sixth sense for sounds that were more timeless than any trend. With the release of her debut solo album The Love Invention—an electrifying dance-pop suite—her multi-faceted musicianship reaches a new peak.

The Love Invention marks Alison's reawakening as a dancefloor priestess, in an intoxicating showcase of the disco and house influences that have always been at the heart of her musical DNA. "So Hard So Hot" bottles the ephemeral joy of a dancefloor with its anthemic house beat, disco handclaps, and an exquisitely alluring vocal from Alison. The sense of uninhibited liberation courses through album highlights like "In Electric Blue," a yearning synth-pop confection with a chorus as blissful as love's first butterflies. On "Never Stop," she is flooded with the rush of an all-encompassing love over a buoyant, rubberised beat; the sublime synth-pop of "Fever" is an ode to the intoxicating majesty of the dancefloor, with a chorus that explodes as if setting off a glitter cannon.
Why Would I Watch [Blue LP]
$24.98 24.98
Bolstered by 140 million Spotify streams, a sold-out nationwide headlining tour, support for the likes of The Wonder Years and New Found Glory and headlines in Alternative Press, Hot Mulligan's third LP, Why Would I Watch cements their evolution as one the most versatile and profoundly moving bands in the underground. Produced by longtime collaborator Brett Romnes, Why Would I Watch is Hot Mulligan at their loudest, their poppiest, and, ultimately, their most poignant. "We didn't really have grand ambitions when we went in to make this album," explains Freeman. "I liked you'll be fine, and I just wanted us to make another good one." Adds Sanville wryly: "If we had made a bad record, I'd have gotten into a plane and fallen out of it." Therein lies the true magic of Hot Mulligan, the push and pull of puns and pathos that might seem diametrically opposed at first but actually intersect to perfectly encapsulate life in a heavy, ADD-addled world.


Island Of Love [Indie Exclusive Limited Edition Piss Yellow LP]
$24.98 24.98
You know a band has to be one of the most incredible live outfits in the country when they get signed immediately after a show in the time it takes to pop outside for a cigarette break. This is exactly what happened to Island of Love after they were invited to play The Blue Basement venue in Third Man Records - which opened in September 2021 in London as the third Third Man store after Nashville and Detroit. Island of Love were second only to Jack White himself to play the room and it was still so new that the drummer even left with paint on his back from where he'd been pressed up against the wall playing. With that on-the-spot offer, they became the first band signed to Third Man London.

The band are a unique proposition in many ways. While countless London bands continue to go down the same tired path of churning out spoken word post-punk, Island of Love marry raw, primal noise led by crunchy guitars with intrinsically melodic sensibilities - recalling the sound and spirit of peak-era Dinosaur Jr. or Husker Dü.
SMITHEREENS [Indie Exclusive Limited Edition Clear LP]
$27.98 27.98
SMITHEREENS marks Joji's first full-length since Nectar in 2020. He delivers his characteristically melancholic yet powerful vocals on tracks like "Die For You," a sober, morning-after remembrance of a former love.   SIDE A of the album heralds a mature sonic direction for Joji through wistful and contemplative ballads accompanied by lush production that blooms within each song. SIDE B, largely produced by Joji himself, digs deeper into the lo-fi and off-kilter sounds that hark back to his experimental beginnings as an artist.
LOVE AGAIN (Soundtrack from the Motion Picture)
$11.96 11.96
The soundtrack from the motion picture LOVE AGAIN features 5 new Celine Dion recordings, in addition to 6 of Celine's previous hits and 3 film score selections. The album was announced with the release of the title song, "Love Again." This is the first new music from 5 time Grammy winner Celine Dion, since 2019's album Courage.

LOVE AGAIN, the film is written and directed by Jim Strouse, and stars Priyanka Chopra Jonas, Sam Heughan, and Celine Dion. In this romantic comedy, dealing with the loss of her fiancé, Mira Ray (Chopra Jonas) sends a series of romantic texts to his old cell phone number…not realizing the number was reassigned to Rob Burns' (Heughan) new work phone. A journalist, Rob is captivated by the honesty in the beautifully confessional texts. When he's assigned to write a profile of megastar Celine Dion (playing herself in her first film role), he enlists her help in figuring out how to meet Mira in person…and win her heart.
Pretty Woman - The Musical
$14.98 14.98
Pretty Woman - The Musical is an award-winning Broadway show based on the hit 1990 romantic comedy film of the same name starring Julia Roberts and Richard Gere. The music and lyrics were written by Bryan Adams and Jim Vallance. This is the first time that the music, performed by Bryan himself, is featured on cd.
I Hope You Can Forgive Me [Purple & Clear Mix LP]
$25.98 25.98
Madison's latest project, I Hope You Can Forgive Me, represents an evolution in her career as she finds ways to improvise and self-produce in the midst of an ever changing global pandemic landscape. I Hope You Can Forgive Me builds upon that next step sonically while exploring themes of love, self preservation, fear, and conjuring. What comes out of this work and Madison's career thus far is a commitment to leave - leave fear and doubt behind in order to make space for what is next to come, all with a sense of style, fun, and invitation to dance through it.
Echo Palace [LP]
$29.98 29.98
After the pandemic hit, and the people of the world grew wary and suspicious of one another, Iguana Death Cult, one of Europe's most exciting rock exports, became more than just a band to its members—it became therapy. "I think for the first ten times we went to jam," says guitarist/vocalist Tobias Opschoor, speaking about the making of the new album Echo Palace, "we just drank wine and talked about it for hours—and then were like, 'OK, I have to go because I have to work tomorrow.'" Taking place at frontman Jeroen Reek's apartment in Rotterdam, these gatherings slowly shifted from talking about this surreal chapter of their lives—the days of quiet streets and cramped buildings—to making music about it. Armed with the talents of Justin Boer on bass and Arjen van Opstal on drums, and tapping the keys work Jimmy de Kok for the first time on album, the band took their trademark melodic garage-rock style and expanded it to make it vibier and looser, with each member contributing ideas to develop the sound palette in full. When it came time to record the album, the band headed to PAF Studio in Rotterdam, and subsequently it was mixed by Joo-Joo Ashworth (Sasami, Dummy) at Studio 22 in Los Angeles and mastered by Dave Cooley (Tame Impala, Yves Tumor). The album is a big swing, stretching Iguana Death Cult beyond its garage rock origins and taking them to a new realm. The end result of Echo Palace is an appropriately worldly album from a group breaking past the confines of its home country. "Dutch band Iguana Death Cult's rip-roaring melodies are built to jettison far beyond their homebase of Rotterdam." - FADER "Frenetic, intense sonic assaults, they turn psych punk into astonishingly concise three-dimensional documents." - CLASH Paper Straws Echo Palace Pushermen Sunny Side Up Sensory Overload Conference to Conference I Just Want a House Oh No Rope a Dope Heaven in Disorder Radio Brainwave
Random Access Memories: 10th Anniversary Edition [3LP]
$51.98 51.98
2023 marks the 10th anniversary of Daft Punk multi Grammy winning hit record Random Access Memories including Get Lucky, Instant Crush, Lose Yourself To Dance and featuring Pharrell Williams, Nile Rodgers, Julian Casablancas, Paul Williams, Panda Bear and Todd Edwards. To celebrate this milestone a special expanded edition will be released including 35 minutes of unreleased music (Demo and Studio Outtakes). The triple vinyl  includes a special Lose Yourself To Dance poster + 16 page booklet.
Failure Will Follow [LP]
$32.98 32.98
Double vinyl LP pressing. 2023 release, one of two albums released by the metalcore/deathcore band. The album is released on the same day as their Step Into The Light album.


KPOP (Original Broadway Cast Recording)
$13.96 13.96
Sony Masterworks Broadway is proud to announce the release of the Original Broadway Cast Recording of KPOP. The musical stars, from the world renowned K-pop group f(x), super star Luna as MwE, Julia Abueva, BoHyung (from the K-pop group SPICA and half of the duo KEEMBO), Major Curda, Jinwoo Jung, Jiho Kang, Amy Keum, James Kho, Marina Kondo, Eddy Lee, Joshua Lee, Jully Lee, Lina Rose Lee, Timothy H. Lee, Abraham Lim, Min (from the K-pop group Miss A), Kate Mina Lin, Aubie Merrylees, Patrick Park, Zachary Noah Piser, Kevin Woo (from the K-pop group U-KISS), and John Yi.

The exhilarating energy of a stadium concert meets the talent and passion of your favorite musical in KPOP! Packed with pulse-pounding new music and electrifying choreography, this original musical explores the relentless discipline, raw talent, and commercial ambition behind the international sensation. As global superstars put everything on the line for a special one-night-only concert, they face struggles both cultural and personal that threaten to dismantle one of the industry's hottest labels. Featuring a cast of K-pop and musical theater stars, it's a multimedia experience unlike anything else on Broadway.

With music, lyrics, music production and arrangements by Drama Desk nominee Helen Park, and music and lyrics by Max Vernon, KPOP is directed byTeddy Bergman and features a book by Jason Kim with choreography by Jennifer Weber. Produced by Tim Forbes and Joey Parnes, KPOP is the first Broadway musical to celebrate Korean culture with Korean, Korean-American, and API representation on and off-stage.



Crazy Horse Never Died [LP]
$31.98 31.98
The Choctaw, Assiniboine, and Texan poet, journalist, visual artist, American Indian Movement activist, and musician Roxy Gordon (First Coyote Boy) (1945–2000) was above all a storyteller, known primarily as a writer of inimitable style and unvarnished candor, whose wide-ranging work encompassed poetry, short fiction, essays, memoirs, journalism, and criticism. Over the course of his career he recorded six albums, wrote six books, and published hundreds of shorter texts in outlets ranging from Rolling Stone and The Village Voice to the Coleman Chronicle and Democrat-Voice, in addition to founding and operating, with his wife Judy Gordon, Wowapi Press and the underground country music journal Picking Up the Tempo. Along the way he cultivated close friendships with fellow Texan songwriters such as Lubbockites Terry Allen, Butch Hancock, and Tommy X. Hancock, as well as Ray Wylie Hubbard, Billy Joe Shaver, and, most famously, Townes Van Zandt, whom he called his brother. Although his work covered a vast array of topics exploring strata personal, local, global, and cosmic alike, Gordon's primary subject as a writer, musician, and visual artist was always American Indian culture, specifically the ways it collided and coexisted with European American culture in the South and West—and within the context of his own life and braided identity.
Lauren Daigle [LP]
$27.98 27.98
Two-time GRAMMY® Award-winning singer and songwriter Lauren Daigle announced her forthcoming self-titled album , Lauren Daigle,  featuring "Thank God I Do is due out May 12, 2023.
 
"Thank God I Do" marks the launch of a new creative chapter for the multi-platinum selling, Louisiana-bred artist, who just last month announced the signing to Atlantic Records in partnership with longtime label home Centricity Music. The creative team behind Lauren Daigle is led by Grammy®-winning producer Mike Elizondo (Twenty One Pilots, Mary J. Blige, Fiona Apple, Carrie Underwood), and includes co-writes with Natalie Hemby, Shane McAnally, Amy Wadge, Lori McKenna, Jason Ingram and Jon Greene, to name a few. Lauren Daigle comprises 10 soulful and uplifting songs to be released May 12.
Dealing With Demons Vol. II [Purple LP]
$23.98 23.98
DEVILDRIVER didn't pause, releasing the highly-acclaimed first installment of their two-part Dealing With Demons saga, Dealing With Demons I. International media mainstays like Revolver, Metal Hammer, Kerrang and Consequence lauded the album, with Blabbermouth adding, "If the second half of this mammoth endeavor matches the first, this will be remembered as a pivotal moment in the DEVILDRIVER story." And now, as society emerges more hardened and determined than before, so does DEVILDRIVER's 10th full-length, Dealing With Demons Vol. II. Once again produced and engineered by Steve Evetts with additional engineering from guitarist Mike Spreitzer, Dealing With Demons Vol. II is inarguably heavier and relentlessly harsher than its predecessor. Dealing With Demons Vol. II represents not only the most vicious of the two records, but also the darkest recesses of iconic frontman Dez Fafara's psyche and the final purging of his demons that have long haunted the band's music. Track one, "I Have No Pity", instantly keeps fans guessing with its contrasting, marching rhythmic groove and Dez Fafara's icy, earworm warnings. The album's standout production immediately shines, with the track's thick riffs, haunting leads, room-filling drums and Fafara's vocal prowess leading the way. Eerie, insistent "Mantra" drops a wave of melodic aggression on the listener, instantly inducing headbanging with its breakneck pace and occult lyricism. Dynamic tracks like "Nothing Lasts Forever" and "Summoning" cascade with alternating passages of sinister riffage and memorable chants, while extraordinary highlights like devastatingly grim "Through The Depths" – with its black metal-esque passages, deft guitar play and menacing lyricism – showcase the evolution of DEVILDRIVER in the new decade. "Bloodbath" is as brutal as its name suggests, ominously bending and pummeling with immediate aggression, as "It's a Hard Truth" continues the onslaught, cautioning against delusion amid balanced melodic leads. Closer anthems "If Blood Is Life" and "This Relationship Broken" are the blood-soaked cherries atop Dealing With Demons Vol. II, bringing together all of the elements that make DEVILDRIVER the best at their craft. If there is any question as to whether DEVILDRIVER is slowing down any time soon, Dealing With Demons Vol. II proves that 20 years into their career, even with their demons in tow – they move forward at the forefront of metal.
Okemah Rising [LP]
$27.98 27.98
Dropkick Murphys history with Woody Guthrie dates back decades, from covering "Gonna Be A Blackout Tonight" on their 2003 album Blackout, to using some of Guthrie's writing about Boston in their immortal hit "I'm Shipping Up To Boston". On their recent 2022 album, This Machine Still Kills Fascists, Dropkick Murphys crafted an entire record around the seminal American folk icon, bringing Woody Guthrie's perennial jabs at life-many of which are from the 1940s and '50s-into the present, with the resulting music eerily relevant to today's world. Okemah Rising is second and final installment of this collaboration, and the band bring it home with a bang. Whereas the goal of This Machine Still Kills Fascists was to raise consciousness, Okemah Rising intends to raise the roof. It may have one or two tender moments, but all in all it's much more of a party. "Even a party record can have a message though and we've felt that over the last few months as we've played 'Gotta Get to Peekskill' and 'I Know How It Feels' on tour all over the world. Every night, when the audience is singing along with Woody's words, his steadfast defense of the working class, and his fight against social injustice and the abuse of political power comes across loud and clear. So as long as Dropkick Murphys are involved, Woody's message will always be heard."


Flying Games [Sky Blue w/ Spring Green and Baby Blue Splatter LP]
$22.98 22.98
The 6th solo LP from Mike Gordon, Flying Games is an album of constant & wildly hypnotic movement, each moment animated by unexpected sounds that morph and expand and spin off into their own strange orbits. Produced by Mike Gordon, recorded by longtime collaborator Jared Slomoff, and mixed by six-time Grammy-winning engineer Shawn Everett (Alabama Shakes, The War on Drugs).
[m]other [Indie Exclusive Limited Edition Neon Violet + White Galaxy LP]
$25.98 25.98
Metal powerhouses Veil Of Maya return with their 7th full-length on Sumerian Records. The new record, produced by Zach Jones, features menacingly heavy riffs, intense vocals, and a collection of personal experiences intertwined with their own imagination. [m]other epitomizes Veil Of Maya – a group that is unafraid to break the rules and is fully committed to exploring change.
Spirit They're Gone, Spirit They've Vanished: Remastered 2023 [Indie Exclusive Limited Edition Grass Green 2LP]
$38.98 38.98
Chiming laments for a childhood's end, the debut album from Animal Collective opens with the phrase "want to hear a secret, I know one," suggesting these secrets just might be buried deep within the flocks of high frequencies, electronic glitches, bleeps and swells that follow. Originally released in 2000 and credited to Avey Tare & Panda Bear prior to the full, collective band name being used on releases, this reissue features remastered audio and new artwork by Abby and Dave Portner.


Aim and Ignite [Blu Jay 2LP]
$32.98 32.98
Debut album by Grammy Award-winning alternative rock/pop band fun. featuring "All The Pretty Girls," "Be Calm," and "The Gambler". 
Virtue Falters [Aubergine LP]
$24.98 24.98
The Detroit trio's fifth album is eight tracks of what we've come to expect from the always in form group – a cinematic blend of twangy industrial rock, metal, noise, baritone vocals, and macabre lyrics – but with an immediate urgency not yet seen from the band on past albums. It's their most focused album to date.
Stumble Into Grace [Limited Edition Bone LP]
$24.98 24.98
In celebration of the album's 20th anniversary, Emmylou Harris' Stumble Into Grace will be available on vinyl for the first time.  The release will be available on special bone colored vinyl.  When the album was initially released, it was an immediate critical and commercial success.  It includes almost all original compositions written by Harris and was produced by Malcolm Burn (Bob Dylan, John Mellencamp, The Neville Brothers).  The album also features a host of guest artists including Daniel Lanois, Gillian Welch, Linda Ronstadt, The McGarrigle Sisters, Kevin Salem, Ethan Johns and more.
(Whirring Marvels In) Consensus Reality
$14.98 14.98
(Whirring Marvels In) Consensus Reality is the new album by Eluvium– the renowned moniker of prolific modern composer, Matthew Robert Cooper. Taking initial inspirations from T.S. Eliot's The Waste Land and Richard Brautigan's All Watched Over By Machines Of Loving Grace, (Whirring Marvels)inherently deals both with humankind's need for meaning, and the emergence of algorithms reflecting the feedback loops of humankind's interactions with machines themselves. This complicated relationship that we have with technology, automations, and algorithms – and the influence they in turn have on shaping our image of the world – is the mechanized heart and soul of an album that almost instantly establishes itself as a peak in Eluvium's inimitable catalog.

During the writing process for (Whirring Marvels In) Consensus Reality, Cooper began experiencing shoulder and arm pain that rendered his left arm increasingly debilitated. This inspired new compositional methods that blended varying degrees of electronic automations with traditional songwriting. Lyrical themes were built using algorithms to cull content from a notebook filled with years of scribbled thoughts, poems, considerations, conspiracies, scientific notions, and notes on the spirit of existence. Employing musicians from all around the world – including members of the American Contemporary Music Ensemble (ACME), Golden Retriever, and the entire Budapest Scoring Orchestra– much of the music was conducted and recorded remotely via teleconference during the global COVID lockdowns of 2020 and 2021. This approach to composing served as an unintended but serendipitous challenge for an album inspired by the complicated convenience of technology.

(Whirring Marvels In) Consensus Reality blends an ornate combination of ingredients to construct a narrative of our dynamic invention; technological advancement; loneliness and isolationism; and unchecked idealism in a world of never-ending growth. The resulting hope that somehow emerges is itself a marvel of innovation and inspiration.
Consequences Coming [LP]
$29.98 29.98
Vinyl LP pressing. Sex Pistols bassist and Rock Hall Of Fame inductee Glen Matlock has crafted a timely and politically pertinent new rock album that's perfectly in tune with the chaos of our times. Backed up by a collection of legendary players, (in)famous cohorts, and rock royalty including the likes of Earl Slick, and Clem Burke; Glen Matlock has never sounded better. And his new solo album Consequences Coming proves once again that he is undeniably one of the greatest songwriters of his (or any) generation. As the original bassist and songwriter of the Sex Pistols, Glen Matlock is responsible for co-penning some of history's most iconic songs, "Anarchy In The UK," "God Save The Queen" and "Pretty Vacant". After his time with The Sex Pistols, Matlock went on to form several well-regarded bands including Rich Kids (with Midge Ure). He has collaborated with such artists as Iggy Pop, and Primal Scream, and is also a highly in-demand player, playing live with the likes of the legendary reformed Faces. Most recently, Glen has signed on as the touring bassist for legendary punk / new wave band Blondie. On the album Matlock says, "The album was written and recorded in Britain over the last 18 months or so with a posse of seasoned but en point performers." says Matlock. "All done during the debacle that is Brexit and the rise and fall of the turgid Trump episode in the US. These songs reflect my take on the whole sorry mess that has ensued." "The tunes are pretty catchy too


Good Lies [LP]
$28.98 28.98
Vinyl LP pressing. Highly anticipated would be an understatement; since their inception Overmono have purposefully cultivated a fanbase that heralds them as one of the UK's most original contemporary live electronic acts. A run of ground-breaking club EPs between 2020 and 2022 built momentum and culminated in their breakthrough club single, 'So U Kno', which encapsulated the hearts of clubbers and went on to become a bonafide phenomenon as dancefloors re-opened; featuring in end of year lists published by Resident Advisor, Pitchfork, DJ Mag and Mixmag. Since then, Overmono have been named 'Best Live Act' at the prestigious DJ Mag Best of British Awards, taken their custom audio-visual live show to the most credible festivals across the globe, including Glastonbury, Movement Festival, Dekmantel, and produced innovative releases including their instalment of their 'Fabric Presents' DJ mix series and collaborations with Joy Orbison. Now, Overmono return to present their most ambitious release to date. Across the twelve-track project, Overmono journey through a powerful distillation of their musical career so far; incorporating "So U Kno" alongside new music that propels them beyond the dancefloor. "Good Lies" remoulds and interweaves captivating vocal cuts into a series of multi-genre electronic sounds that flits effortlessly between euphoria and melancholy in the same 4-bar loop


448
$14.98 14.98
Jeff Carson considered himself a blessed man-he pursued two careers that he loved - music and police work. After high school graduation, Carson entered a talent contest in Northwest Arkansas that marked the beginning of his music career. That second place finish earned him a spot in the winner's band that he would play with for the next two or three years. His next move to Branson kept the pace and he was hired as the bass player for a local band.Carson was content in Branson but decided to move to Nashville in 1989 and explore that avenue. In Nashville, his luck stayed with him, and he was hired as the bass player working at Opryland Hotel with a group and as a solo act. Carson volunteered to do demos for songwriters for free so he could get his foot in the door to sing demos. He sang demos on songs that turned into hits for Tracy Byrd ("Walkin' To Jerusalem"), Tracy Lawrence ("I See it Now"), Reba McEntire ("The Heart Is A Lonely Hunter"), Tim McGraw ("I Wouldn't Want it Any Other Way") and Faith Hill ("It Matters To Me"). Carson soon garnered a label deal at Curb Records and the hit singles followed, "Yeah Buddy, " "Not On Your Love, " "The Car, " and "Real Life (I Was Never The Same Again).""Real Life (I Was Never The Same Again)" was released on 9/11/2001 and unknowingly the title would hold much more meaning. Carson had always said that if he had not pursued music, he would have looked at a career in law enforcement. "If we had time after a show, I'd go ride with officers on patrol. I always said, if music went away the only other thing I'd like to do would be a cop." Carson graduated from the Police Academy in Franklin, Tennessee in 2008 at the age of 44.The singer admitted that for about eight years he didn't pick up his guitar, and then a few years ago, someone called him and asked if he would do a show at a casino in Michigan. "I told him I'd see if I could remember the words to my songs, but really the words and chord progressions and playing guitar came back to me right away." He started to get other bookings and was back out on the road.Most recently, in 2021, Carson signed with Encore Music Group and began recording a specialty album of his biggest hits to include duets with Michael Ray, Darryl Worley and Craig Morgan. However, on March 27, 2022, before the album's release, Jeff Carson sadly passed away from a sudden heart attack at the age of 58. Encore Music will posthumously release this album just as Jeff would have wanted. While the passing of Jeff Carson was a tremendous loss for his fans, community, and loved ones, before his death, Carson explained that he had no regrets in his career choices. "I have had the best of both worlds and feel very fortunate that I have had the opportunity of doing two things that I love."


O Sun O Moon [LP]
$34.98 34.98
Bruce Cockburn has enjoyed an illustrious career shaped by politics, spirituality, and musical diversity. His remarkable journey has seen him embrace folk, jazz, rock, and worldbeat styles while earning high praise as an exceptional songwriter and a revered guitarist. He remains deeply respected for his activism and humanist song lyrics that thread throughout his career. On all his albums Cockburn has deftly captured the joy, pain, fear, and faith of human experience in song. O Sun O Moon is Cockburn's latest studio album available May 12 from True North Records, a collection of 12 new original songs that demonstrate the songwriting and guitar-playing skills that come from more than 55 years of artistry. He has 22 gold and platinum records including a 6 times platinum record for his Christmas album. Cockburn continues to tour internationally.


VIEW COMPLETE LIST
Music Releases 05-19-23
Drastic Symphonies [Indie Exclusive Limited Edition Clear 2P]
$39.98 39.98
Strap yourselves in for the sonic ride of your life. Rock and classical royalty unite on brand new album Drastic Symphonies. Recorded at Abbey Road Studios in London, Def Leppard have drastically deconstructed and reimagined some of their biggest hits, collaborating with the Royal Philharmonic Orchestra. This bold new approach to the orchestral hits formula sees new vocal and guitar recordings from the band.
Walk Around The Moon [Indie Exclusive Limited Edition Clear LP]
$28.98 28.98
Dave Matthews Band's 10th studio album, Walk Around the Moon, took shape during the pandemic and is as much a reflection on the current times as it is an urge to find common ground. Walk Around the Moon will be released to coincide with the start of the band's 2023 summer tour.  
Death Wish Blues [Indie Exclusive Limited Edition Clear w Black & Orange Swirls LP]
$24.98 24.98
The first-ever collaborative album from Samantha Fish and Jesse Dayton, Death Wish Blues is a body of work born from a shared passion for pushing the limits of blues music. Produced by the legendary Jon Spencer of Jon Spencer Blues Explosion, Death Wish Blues melds their eclectic sensibilities into a batch of songs both emotionally potent and wildly combustible and helps fulfill their shared longtime mission of opening up the blues genre to entirely new audiences.
Gag Order
$13.92 13.92
Gag Order is an album that finds the GRAMMY-nominated pop star, Kesha, excavating the deepest recesses of her soul to date. The record, which Kesha has labeled "post-pop" and was produced by Rick Rubin, is a full-bodied collection that flows like a stream of conscious journey through the psychedelic dark depths of the human psyche followed by basking in the cleansing light when finally reaching the surface.
I Only See the Moon [Indie Exclusive Limited Edition Maroon LP]
$23.98 23.98
Completing their seventh studio album was a hard-won victory for The Milk Carton Kids, but I Only See the Moon was worth the effort for Kenneth Pattengale and Joey Ryan. "It feels like returning to something that's natural and comfortable, and also just as inspiring and new as when we first met," says Pattengale, who formed The Milk Carton Kids with Ryan in 2011.

What started as a three-week recording session in the fall of 2021, with Pattengale producing the contemporary folk duo himself for the first time, stretched into a monthslong project that found the pair digging deeper into their craft than ever before. With a new studio of their own in Los Angeles and the realization that they were in no hurry, The Milk Carton Kids took the time they needed to be fully satisfied with I Only See the Moon.

"I haven't been as happy with the collection of songs that we've put on record probably since our first record, and it's because of a lot of the lessons we've learned over the years, including giving yourself time and space," Ryan says.The three-time Grammy nominees sound refreshed on 10 new songs distilled to the essence of The Milk Carton Kids: two voices blended together in spellbinding harmony, accompanied by subtly perfect acoustic instrumentation. Turns out that's a tough sound to get just right, but I Only See the Moon shows just how much Pattengale and Ryan were willing to work for it. 
Phantomime [Indie Exclusive Limited Edition Tan LP]
$21.98 21.98
Ghost follows last year's international chart-topping opus IMPERA as intended from the start with PHANTOMIME, a diverse and spellbinding sampling of the GRAMMY Award-winning band's musical DNA. Featuring covers of classics by Television, Genesis, The Stranglers, Iron Maiden and Tina Turner, PHANTOMIME pays tribute to these unlikely bedfellow influences while stamping them all with Ghost's undeniable sonic signature.
SOS [2LP]
$35.98 35.98
SOS is the second studio album from GRAMMY award winning singer SZA, and the follow up to 2017's major label debut album Ctrl. The genre-blending album contains elements of pop, R&B, soft-rock, gospel, and hip-hop. SOS features guest appearances from Travis Scott, Don Toliver, Phoebe Bridgers, and the late Ol' Dirty Bastard. SZA worked with a variety of hitmaking producers including Ctrl collaborators ThankGod4Cody and Carter Lang, along with Jeff Bhasker, Rob Bisel, Benny Blanco, Kenny "Babyface" Edmonds, Emile Haynie, Rodney "Darkchild" Jerkins, Jay Versace, and more.
Who Are You When No One Is Watching?
$13.98 13.98
Braxton Cook's new album, Who Are You When No One is Watching?, showcases his depth as an artist. Already named to OkayPlayer's "23 Albums OkayPlayer Can't Wait to Hear in 2023" and BET's "Most Anticipated Albums of 2023," the album features elegant, saxophone-driven instrumental tracks like "Indie" and smooth, progressive R&B songs like "90s" feat. Masego. Listeners will realize themes of love and relationships throughout the album, juxtaposed to songs inspired by the journey of an independent artist and the everyday violence and struggles Black men and women face in America. This body of work is a strong statement reflective of Braxton's life experience and inspirations.


Weird: The Al Yankovic Story (Original Motion Picture Soundtrack) [Hot Pink 2LP]
$39.98 39.98
Weird: The Al Yankovic Story stars Daniel Radcliffe as "Weird Al" Yankovic in the unexaggerated true story about the greatest musician of all time. From an unconventional upbringing where playing the accordion was considered a sin, Al rebelled and made his dream of changing the words to world-renowned songs come true. An instant success and sex symbol, Al lived an excessive lifestyle and pursued an infamous romance that nearly destroyed him. The movie is available to stream via Roku, Fire TV or Samsung devices, or online on the Roku Channel.

Weird: The Al Yankovic Story (Original Soundtrack) features 46 tracks - a mix of newly-recorded classic Weird Al parodies, a new Weird Al original ("Now You Know"), various other artists' tracks, and the film's orchestral score by Leo Birenberg & Zach Robinson (the team behind the score for the Netflix blockbuster Cobra Kai) on two glorious hot pink LPs.
End of the World [Clear Green LP]
$24.98 24.98
After more than a decade of non-stop touring, acclaimed Austin songwriting duo, Kelsey Wilson and Alexander Beggins, quietly stopped touring as Wild Child. Headed in different sonic directions, the pair didn't know if they would ever make another Wild Child record. Then, what felt like the "end of the world" brought them back together. Pandemic lockdowns closed stages and drained bank accounts. As artists from all backgrounds took their shows to the internet, Wild Child was no different. Wilson and Beggins got together to practice for a series of online performances for devout fans, and within 30 minutes they wrote the first single for what would accidentally become Wild Child's fifth album, End of the World.

Mixed by Matt Pence (Jason Isbell, Elle King) and including contributions from guitarist Charlie Wiles (Paul Cauthen, John Moreland, Orville Peck), End of The World sees the pair find catharsis in art amid compound disasters. As Wilson describes it, "I just started signing about things that were freaking me out. Wearing a mask for a year. Global warming. There's no heat, no water. It was like a dirge to begin with. But by the end we were all screaming and laughing that, yes, this might be the end of the world, but we're all together right now, making music in my living room by candlelight. It's all OK."
One Of Us Is The Killer [RSD Essential Indie Colorway Silver w/Ultra Clear Galaxy 2LP]
$38.99 38.99
Indie Exclusive * Tri-colored stripped(white/black/silver) will be randomly inserted into this pressing * There will be different D2C versions , but this is the only version available to stores * Celebrate 10 years of The Dillinger Escape Plan's fifth studio album "One of Us Is the Killer" with an exclusive 2LP vinyl pressing containing the original release, plus a second disc with album instrumentals on monochromatic wax. Housed in a silver foil gatefold jacket with printed lyrics sleeves and download card.


Long Black Train [LP]
$27.98 27.98
Multiplatinum-selling recording artist Josh Turner is celebrating the 20th anniversary of his hit album, Long Black Train, and the album's lead single of the same name, which were both certified Platinum by the RIAA. On May 19, 2023, the album will be released on vinyl for the first time to coincide with the anniversary of the single's original 2003 release date.
Reflections [Turquoise LP]
$23.98 23.98
Reflections is a recording of Sufjan Stevens' sixth collaboration with acclaimed ballet and dance choreographer Justin Peck. Originally composed for World Premiere and performances (May 17 - 26, 2019) by Houston Ballet, the piano duet was recorded at Oktaven Studios by Ryan Streber and performed by pianists Timo Andres and Conor Hanick. Reflections is imbued with Stevens' memorable and emotionally resonant melodies and arrangements and continues to establish Stevens as a contemporary composer.
The Big Mess [Indie Exclusive Limited Edition LP]
$22.98 22.98
Tanlines' first album for Merge. Eric Emm and Jesse Cohen make escapist, joyful-sounding songs about sad, insular moments and melancholy songs about catharsis and joy. The Big Mess is a deft and danceable exploration of what Emm calls "introspective masculinity," what thoughtful relationships look like between father and son, between friends, and between the individual and societal expectations. The Big Mess is for Tanlines fans old and new alike, those who've succumbed to their wry, winking brand of pop music in the past, and those looking to soundtrack a late night in the future.


To Learn [LP]
$25.99 25.99
Leith Ross is a Canadian singer/songwriter who embraced music at a young age, channeling emotional confessions through softly strummed chords. Their new album, To Learn, will be released on May 19, 2023 and feature the singles, "We'll Never Have Sex" and "(You) On My Arm." Leith has sold out their UK, European and US tour dates which take place April through June 2023.
End of Everything [Indie Exclusive Limited Edition Neon Orange LP]
$29.98 29.98
End of Everything is the intrepid 7th album from Mega Bog aka Erin Birgy. In 2020, living in Los Angeles, against the backdrop of horrifying forest fires, she questioned what to do in the face of such profound turmoil. Deciding to seize something tangible, Birgy explored a spectrum of new sounds to illuminate a state of volatility and flux both universal and personal. Heavy grooves, metal guitar squeals, Italo disco bass, fantasia synth layers, and huge choruses stomp around sanguine pop drama.
America's Volume Dealer [RSD Essential Indie Colorway Clear w/White Swirl LP]
$28.99 28.99
Indie Exclusive * America's Volume Dealer is the sixth studio album by American heavy metal band Corrosion of Conformity, released on September 26, 2000. Back on vinyl for the first time since 2016; It was the last album to feature longtime drummer Reed Mullin for nine years until his return in 2010.


West Side Story [Contemporary Records Acoustic Sounds Series] [LP]
$29.98 29.98
Acoustic Sounds celebrates Contemporary Records with this new reissue of the West Side Story album by pianist André Previn, bassist Red Mitchell and drummer Shelly Manne. Originally released in 1960, the album contains 8 cuts from the musical soundtrack reinterpreted in a jazz style. Recorded by legendary engineer Roy DuNann this edition is pressed on 180-gram vinyl pressed at QRP with (AAA) lacquers cut from the original tapes by Bernie Grundman and is presented in a tip-on jacket.


Overcome By Happiness: 25th Anniversary Edition [Orange and White Splatter 2LP]
$61.98 61.98
"You don't want your stuff to vanish," says Joe Perniceabout the twenty-fifth anniversary reissue of Overcome By Happiness. "Not that I'm looking to get famous, but you need to connect with the world. There's something that reaffirms your own life in that echo that comes back to you—even if it's your own voice coming back.

"The story of Overcome By Happinessis one of great risk and greater payoff. It's the story of a disgruntled country singer struggling to define himself against prevailing musical trends. It's the story of a songwriter just finding his voice, an artist so desperate to express himself that he scrapped one band to form another, risking his record contract and arguably his career to put the sounds he heard in his head onto tape. It's the story of a musician embracing the sounds of his childhood: AM easy listening, sophisticated chamber pop, baroque lounge music, Bread, the Carpenters, Bacharach, Manilow. It's the story of a poet driving through Massachusetts in a rusted-out Bonneville with a wooden bumper.

This time has come for this story to be told on vinyl. Released 25 years later to the day, New West Records is proud to present the remastered 25th anniversary edition of Overcome By Happinesson vinyl. This release features two orange and white splatter LPs held by thumb notch sleeves inside of a hardback book gatefold. The album audio also includes a 13 Track Bonus LP featuring 8 Previously Unreleased Demo Recordings The package features a 52-page book showcasing extensive liner notes, printed lyrics, forward and track by track written by Joe Pernice as well as previously unseen photographs. Each copy comes with a 5x7 autographed print.
Unincorporated [LP]
$22.98 22.98
A lot can be said about El Dorodo that hasn't been said before. We can talk about their beginnings, their roots, their lineage and their heritage, but that does not even begin to scratch the surface that is the iceberg of El Dorodo. Before the age of woefully crafted template songs that littered radio all across America, there was an age of radio and song craft that spoke to everyone on a common level. These words tell stories — stories of heartache, stories of past good times…but mostly heartache. A universal understanding of the human emotion coupled with every great sound that music has to offer, all in one place. El Dorodo is all of these things and all of these things are Country music. El Dorodo appreciates, respects and loves all types of "good" music. You may hear aspects of these different genres represented in our music. We are fans first. Our hearts lie in Country/Western/Old Time music and culture. We represent true, honest Country music to be consumed by the masses and we do so with full hearts. Our aim is to get back to the basics of love…El Dorodo is country music.
Amatssou [Limited Edition White LP]
$29.99 29.99
"Some people have commented that Tinariwen have always been a country band, albeit a North African take on that most North American of genres. That idea is magnified on new album Amatssou, which finds the Tuareg band's trademark snaking guitar lines and hypnotic rhythms blending seamlessly with pedal steel, piano and strings from guest musicians including Daniel Lanois, the embellished arrangements lending the songs an epic, universal application.

Full of poetic allegory, the lyrics call for unity and freedom. There are songs of struggle and resistance with oblique references to the recent desperate political upheavals in Mali and the increasing power of the Salafists. "Dear brothers all rest, all leisure will always be far from reach unless your homeland is liberated and all the elders can live there in dignity," Ibrahim Ag Alhabib sings on 'Arajghiyine.' The album's title Amatssou is Tamashek for 'Beyond The Fear' and it fits - Tinariwen have always been characterised by their fearlessness - and as Bob Dylan once said, the power of rock'n'roll is that it makes us "oblivious to the fear" as the music gives us the strength and resilience to confront adversity.

In the two decades since Tinariwen emerged from their base in the African desert to tour the globe, they have got to know many renowned country, folk, and rock musicians from the USA including Kurt Vile, Stephen O'Malley, Jack White, and Wilco. Tuareg nomads and cowboy drifters. Camel trains and mustang horses. The timeless horizon of the endless Sahara and the wild frontier of the Old West - several thousand miles of ocean may divide the desert blues of Tinariwen and the authentic country music of rural America but the links are as palpable as they are romantic."
Say Less [Indie Exclusive Limited Edition Beige LP]
$25.98 25.98
Golden-voiced Mavericks frontman Raul Malo lets his guitar do the singing in this 10-song collection highlighting his skill as an arranger and instrumentalist. From midnight in Havana to the beaches of California, hear Malo's full range of musical influences on display as he explores a wild variety of textures from surf guitar licks, lush earthen tones, spaghetti western to big band jams and more, accompanied occasionally by his Mavericks bandmates. It's a sonic adventure befitting his time leading music's most shape-shifting band.
Now [LP]
$27.98 27.98
Graham Nash / NOW Now, Nash said, is different. "I believe that my new album Now is the most personal one I have ever made," he said in a press release. "At this point in my life, that's something to say."


Changing Light [Transparent Blue W/ Black Swirl LP]
$26.98 26.98
The Ironsides have arrived. Changing Light is the first full-length effort from this group of Bay Area musicians. It melds classic psych-soul sounds with sweeping orchestral arrangements -- reminiscent of a cinematic soundtrack from a 60s European film. 
Larynx [2LP]
$35.98 35.98
Recorded in Lary 7's legendary apartment studio Plastikville over nearly a decade, Larynx is the first full-length retrospective of the East Village icon's hybrid music and engineering practice. The record mobilizes 7's array of homemade instruments, which he 'frankensteins' together from offcast and outmoded bits of technology. An ode to the long-lost Canal Street junk shops he frequented in the1970s and '80s, Larynx brings together numerous thrift finds and sonic inventions used in his theatrical performances and installations.


Grass Roots [Opaque Pink LP]
$26.98 26.98
Known for their exhilarating live shows and musicianship as well as their eclectic musical tastes, Leftover Salmon has been one of Colorado's most beloved musical exports, picking up where bands like Little Feat, the Band and The Grateful Dead left off and distilling it into their own potent brew of bluegrass, rock 'n' roll, folk, Cajun, soul, zydeco and jazz and blues. As Tim Newby, author of Leftover Salmon: Thirty Years of Festival!, wrote "When listening to Leftover Salmon it is easy to draw a line that runs straight from Bill Monroe to John Hartford to the Grateful Dead to Hot Rize to Little Feat to New Grass Revival to Col. Bruce Hampton and end with Leftover Salmon." GRASS ROOTS showcases a different side of Leftover Salmon. Presenting a series of covers from some of music's most influential voices including the likes of Bob Dylan, Link Wray, David Bromberg, and more. Featuring guest appearances from Billy Strings, Oliver Wood, and Darol Anger.


I Am The Movie: 20th Anniversary Edition [Tangerine w/Black Splatter LP]
$26.98 26.98
Bursting at the seams with creativity, this debut disk is bristling with electric guitars and swirling indie/synth sounds that flail and furl themselves between the melody lines. The lyrics are bright and clever, funny and tragic, with a wry wit and a keen knack for innuendo often offering the listener an original and skewed commentary on pop culture. Although the sound is by definition loud rock n' roll it's got an amazing sense of harmonic flow and an irresistible beat that's guaranteed to make your body move. Produced by Ed Rose (Get Up Kids, Ultimate Fakebook, The Anniversary), I Am The Movie will remind you of whatever you have ever loved about music, and transmit it's message of pure, earnest, Midwestern energy, directly.
Aperture [LP]
$24.98 24.98
Fresh out of high school, Hannah Jadagu released her debut EP, What Is Going On?, a collection of intimate bedroom pop tracks recorded entirely on an iPhone 7, which was, at the time, Jadagu's most accessible mode of production. An off-the-cuff approach to music making and instinctive ability to write unforgettable hooks belied the intensity of Jadagu's subject matter. What Is Going On? confronted some of the nation's most urgent struggles through Jadagu's compassionate perspective. What Is Going On? built on the small online fanbase Jadagu had developed by releasing music on SoundCloud for years as she realized her growing passion for songwriting.Now, Jadagu is releasing Aperture, her first LP and most ambitious work to date. Written in the years between graduating from high school in Mesquite, TX and her sophomore year of college in New York, Aperture finds Jadagu in a state of transition. "Where I grew up, everyone is Christian; even if you don't go to church, you're still practic


Become EP [Vinyl]
$19.98 19.98
"The Become EP is a collection of 5 songs from the Once Twice Melody sessions. We didn't think they fit in the world of OTM, but later realized they all fit in a little world of their own. To us, they are all kind of scuzzy and spacious, and live in the spirit realm. It's not really where we are currently going, but it's definitely somewhere we have been. We hope you enjoy these tunes, Alex and Victoria/Beach House." Become featuring the songs "American Daughter, " "Devil's Pool, " "Holiday House, " "Black Magic" and the title track, and was produced by Beach House, with mixing by Alan Moulder (track 1), Trevor Spencer (tracks 2, 3, 5), and Caesar Edmunds (track 4), and mastering by Greg Calbi and Steve Fallone at Sterling Sound.


Live At Stubb's [LP]
$27.98 27.98
It's only fitting that Khruangbin's first-ever official live releases would be albums paired with their tourmates: artists whose music they love and admire, friends who've become family along the way. Khruangbin's series of live LPs traces just one small slice of the band's flight plan through the years: it's a taste of some of their most beloved cities, stages and nights. Each release comes with a limited-edition unique album cover exclusive for the recording's home turf, just a little something extra for the fans that bring a little something extra. Most of all, this series ignites both sides of the band's magic: the warm, prismatic feeling of their albums and the bewitching energy of their performances.'Live at Stubbs' features performances by Kelly Doyle, Ruben Moreno, The Suffers and Robert Ellis and Khruangbin.
Lucky
$11.96 11.96
LUCKY is the debut album from rising Nashville star, Megan Moroney. The album is produced by Kristian Bush, and is a showcase of Megan's distinctive voice and honest, conversational lyrics.

Buzz has been building around Megan Moroney since the release of the hit track and video, "Tennessee Orange." She is the 2023 CMT Award winner for Female Breakout Video of the Year has been dubbed a "2023 Artist to Watch," as well as one of CMT's Next Women of Country for 2023 calling her "a musical risktaker with powerhouse pipes."

Speaking about LUCKY, Megan said, "If you know anything about me and my story, a lot of things (both good and bad) happened to get me to where I am today, and I just feel very lucky. I couldn't live out this dream without the support of my fans, family, and team. I can't wait to bring these songs on the road with me this year & I hope everyone loves them as much as I do!"
Vida Cotidiana
$11.98 11.98
Global Latin icon, Juanes presents his tenth studio album, Vida Cotidiana. The album is a return to his rock roots reminiscent of his earlier albums. The album is produced by Grammy Award-winning producer, Sebastian Krys and Juanes. Guest collaborators include Mabiland ("Canción Desaparecida") and Juan Luis Guerra 4.40 ("Cecilia").
Brandy Clark
$14.98 14.98
2023 release. An 11x Grammy-nominee and CMA Award-winning artist, Brandy Clark is one of her generation's most respected songwriters and musicians. Produced by 9-time Grammy winning Brandi Carlile, the album showcases Clark's versatility with eleven songs that span the emotional spectrum, including the first single, "Buried."


The Last Kingdom: Destiny Is All [2LP]
$35.98 35.98
Brand New Music From The World of The Hit Netflix Series Co-Composed by John Lunn, Eivřr and Danny Saul

There is a brand-new album from the world of the massively popular Netflix Viking series on its way. The Last Kingdom: Destiny Is All is released digitally and physically via A&G Songs LTD and was newly created and co-composed by Emmy-winning, classically trained Scottish composer John Lunn (Downton Abbey, The White Queen), Faroese singer-songwriter and Icelandic Music Prize-winner Eivřr, and composer Danny Saul (The Last Kingdom, NBC's Law and Order: Organized Crime, Shetland, Jamestown). The album will follow the premiere of the newly announced The Last Kingdom feature-length movie Seven Kings Must Die, airing on Netflix on April 14th as a follow-up to the final season.

The Last Kingdom (produced by Carnival Films) is one of the Top 20 most globally streamed series with 10.4 billion streams and the music from the series has more than 22 million global streams to date.

The album features the distinct, singular voice of Eivřr, acclaimed for her otherworldly throat singing which can be heard as the only vocals throughout the entirety of the score of The Last Kingdom series (which she also co-composed in its entirety along with Lunn) and on her own nine acclaimed albums, her music featured in the God of War Ragnarök video game score and its soundtrack, and during her spellbinding live shows.

The winner of the 2022 Nordic Council Music Prize (which has been previously won by Björk), Eivřr is part of a new wave of Nordic artists (alongside the likes of Wardruna and Heilung) rapidly building passionate international fan bases with music that honours their ancient cultural & musical folklore. At last count, Eivřr's music has been streamed over 95 million times.
VIEW COMPLETE LIST
Music Releases 05-26-23
My Soft Machine [Indie Exclusive Limited Edition Transparent Green LP]
$24.98 24.98
Arlo Parks sophomore album, My Soft Machine, is a deeply personal body of work; a narration of Parks' experiences as she navigates her 20's and the growth intertwined. It follows her highly-praised debut album, Collapsed in Sunbeams, which received two GRAMMY nominations for Best New Artist and Best Alternative Music Album, won the BRIT Award for Best New Artist, received the Honda Mercury Prize, won the BBC Introducing Artist Of The Year Award, was nominated for Breakthrough International Act at the BET Awards and reached the top 3 on the UK Album Charts. Parks shares about how the new album and album title came to fruition: "The world/our view of it is peppered by the biggest things we experience - our traumas, upbringing, vulnerabilities almost like visual snow. This record is life through my lens, through my body - the mid 20s anxiety, the substance abuse of friends around me, the viscera of being in love for the first time, navigating PTSD and grief and self-sabotage and joy, moving through worlds with wonder and sensitivity- what it's like to be trapped in this particular body. There is a quote from a Joanna Hogg film called The Souvenir, it's an A24 semi-autobiographical film with Tilda Swinton - it recounts a young film student falling in love with an older, charismatic man then being drawn into his addiction - in an early scene he's explaining why people watch films - 'we don't want to see life as it is played out we want to see life as it is experienced in this soft machine.' So, there we have it... My Soft Machine." The album was recorded between London and Los Angeles throughout 2021/2022. Arlo worked alongside producers including Paul Epworth, Ariel Rechtshaid, Romil Hemnani (Brockhampton), Frank Ocean-collaborator Buddy Ross, and Carter Lang (SZA), whilst also self-producing a run of material on the album. The record features a guest vocal from musician and friend, Phoebe Bridgers.


Jackman.
$15.98 15.98
This product is an authorized manufactured on demand CD-R
Hailed as the "hitmaker of tomorrow" by Variety, multiple GRAMMY-nominated rapper/actor/entrepreneur born Jackman Harlow is one of music's brightest stars. The Louisville, KY native boasts six GRAMMY Award nominations, two #1 singles, nearly 30 RIAA platinum certifications, and over 10 billion career streams to date. Harlow released his critically acclaimed, RIAA platinum certified debut album, THATS WHAT THEY ALL SAY in December 2020, which featured the chart-topping, 8x Platinum worldwide hit, "WHATS POPPIN," which earned him his first GRAMMY nomination for "Best Rap Performance," along with a wide array of other award nominations.
 
The Generation Now/Atlantic Records rap superstar reached even greater heights in May 2022, with his Gold-certified sophomore album, COME HOME THE KIDS MISS YOU, highlighted by the bombastic Platinum-certified lead single "Nail Tech" and the chart topping, multiple-GRAMMY-nominated, 2X platinum single "First Class," which made a spectacular debut at atop the Billboard "Hot 100," marking his first solo #1 single, while earning the biggest streaming week of 2022. 
 
The Generation Now/Atlantic Records star has graced the covers of Rolling Stone, GQ, Forbes, Variety, Complex, SPIN, Footwear News and XXL's coveted Freshman Class Issue, and brought his captivating live show to TV with performances on Saturday Night Live, The Tonight Show Starring Jimmy Fallon, Jimmy Kimmel Live!, MTV Video Music Awards, BET Awards and Kids Choice Awards, to name a few.
 
This Spring, Harlow will make his acting debut, starring in the remake of the cultural classic, "White Men Can't Jump."
Disposable Everything [Indie Exclusive Limited Edition Strawbably Red LP]
$24.98 24.98
Phoenix-based indie punk band, AJJ, is back with their 10th studio album, Disposable Everything. After years of cult-like indie success and underground critical acclaim, AJJ has continued to evolve with each album, adding more layers and texture musically, while still maintaining their trademark wit and irreverent lyricism. Not every band can juxtapose apocalyptic despair with the warm comfort of an electric blanket, while hitting fans with rousing punk anthems one minute, and beautiful acoustic balladry the next. With Disposable Everything, AJJ has created an album that is both important and beautiful, that will make you feel better about everything while telling you just how terrible everything is, and will be sung loudly at shows for years to come.


All The Rats [Limited Edition Glow In The Dark LP]
$25.98 25.98
Ltd. Edition glow in the dark transparent vinyl. Hailing from New York, New Jersey & Pennsylvania, North Eastern U.S.A. Kings Never Die walk the line between positive, uplifting messages and dead serious subject matter. A musical and lyrical mix of hardcore, punk and metal with chat or sing along vocals. In the band's words, "We love making music together and this is what gets spit out". Comprised of members, Dylan Gadino (vocals) Dan Nastasi (guitar/add vocals) Danny Schuler (drums) Larry Nieroda (guitar) & Evan Ivkovich (bass). The original version of the band started working in late 2019 and released an EP "Raise A Glass" in early 2020 right before the covid pandemic, essentially shutting down the rest of it's 20',21' plans. Since the goal had always been to formally release a full-length album, the band used the down time to focus in on writing and recording. The band emerged with some new members and another EP "Good Times and The Bad" in 2022 as a taster while completing their upcoming "All The Rats" debut full length album.


Countdown To Ecstasy [LP]
$29.99 29.99
At long last, the classic Steely Dan catalog is back on vinyl. Led by Walter Becker and Donald Fagen, Steely Dan released 7 albums from 1972-1980. The vinyl series continues with Countdown to Ecstasy, the band's sprawling 1973 sophomore LP with standouts such as "Bodhisattva," "Show Biz Kids" and "My Old School." 180-gram vinyl.
Temporary Time [Electric Blue LP]
$23.98 23.98
Electric Blue Vinyl. Deeply informed by a deliberate transformation of his musical process, Bayonne's third full-length Temporary Time ultimately makes for his most expansive work to date-an album of both painfully raw introspection and otherworldly beauty. On Temporary Time, Bayonne channels vast imagination into an elegant, yet wildly experimental form of electronic pop, equal parts meditative and mesmerizing. In the making of his latest body of work, the Austin-based artist/producer/multi-instrumentalist otherwise known as Roger Sellers found himself in even greater need of an outlet for his kinetic creative impulses, thanks to an intense convergence of events in his personal life: his father's diagnosis with and eventual death from cancer, the end of a significant relationship, and an overwhelming struggle with depression and anxiety. "Right Thing" and "Perfect" are focus tracks.


Through And Through [Rose Red LP]
$26.98 26.98
Baby Rose makes healing music for the aimless and heartbroken. The Grammy-nominated singer/songwriter and producer's uniquely rich voice naturally lends itself to her powerful, smoke-filled ballads lamenting lost loves and broken futures. "I make music to help myself get through things," she says. The piercing honesty and vulnerability she brings to her lyrics in turn helps others process their feelings and find a place of healing. For Rose, it's a journey that's still ongoing. "If I'm going to leave anything behind, it's going to be getting people back to themselves," she says. "As I get back to myself, it's a constant reset: Remember who you are, remember who you want to be."

You can hear the impact of this approach in Baby Rose's upcoming second album, Through and Through. Take the hypnotic "Fight Club." Over the track's simmering baseline and crashing cymbals, she declares, "I don't need no one else to show me the way." She describes the song as a "breaking of the shell. It encourages me to just go for it and not care about what anyone else thinks." Therein lies Baby Rose's strength: a determination to live, love, and create on her own terms. "I'm not just a singer with a unique voice," she says. "I'm somebody that has something to say."

In the years since releasing her last album, To Myself, Rose has been painstakingly piecing together its sequel. Started almost immediately after its release, her new body of work finds her in a state of musical and personal transition. It's a subtle merging of new sounds—stirring rock, upbeat r&b, psychedelic funk, pop, and soulful ballads—, all mastered through analog tape to make the music feel warmer and all-encompassing. It's also a journey inward as she battles past fear and self-doubt to finally discover—and love—who she is, where she is. Finishing an album with such peace and firm resolution is a first for Rose, but she makes it clear: She's nowhere near done writing her story.
SZNZ: Summer EP [LP]
$53.99 53.99
Vinyl LP pressing. SZNZ: Summer is the eighth EP by Weezer, and the second of four EPs in their SZNZ (pronounced "seasons") project. Originally released in 2022.


True Romance Original Angels Repress [Silver LP]
$24.98 24.98
Charli XCX's critically acclaimed debut album, True Romance, is back and better than ever with this new colour vinyl repress. Originally released ten years ago in 2013, True Romance quickly established Charli XCX as a pop force to be reckoned with, thanks to it's blend of infections hooks, club-ready beats, and confessional lyrics that explore love, heartbreak, and self -discovery. From the dancefloor-ready anthem 'You (Ha Ha Ha)' to the emotive ballad 'Stay Away,' every track on True Romance showcases Charli XCX's undeniable talent and unique perspective as an artist. With this new colour vinyl repress, fans can rediscover the album's standout moments, including the infectious pop gem 'Nuclear Seasons,' the dreamy 'Grins,' and the anthemic 'What I Like.'


Lonerism: 10th Anniversary [Super Deluxe 3 LP Boxset]
$50.99 50.99
To celebrate the 10th anniversary of Lonerism, Tame Impala present fans with a deluxe 3 LP reissue of the album that features previously unreleased demos from the era. Lonerism was Tame Impala's breakout record. It received critical acclaim from the likes of Pitchfork and NME and is regarded as one of the best albums of 2012. This expanded deluxe edition of the album features the original album track list, 2 previously unreleased demos, a full side of album demos, and a deluxe 24-page booklet.
The Little Mermaid (Live Action) [LP]
$25.98 25.98
Vinyl LP pressing. The Little Mermaid original soundtrack features all-new performances by the cast with music by Alan Menken, lyrics by Howard Ashman, and new lyrics by Lin-Manuel Miranda. The film stars Halle Bailey (Ariel), Jonah Hauer-King (Prince Eric), Daveed Diggs (the voice of Sebastian), Awkwafina (the voice of Scuttle), Jacob Tremblay (the voice of Flounder), Noma Dumezweni (Queen Selina), Art Malik (Sir Grimsby), Javier Bardem (King Triton), and Melissa McCarthy (Ursula).


Change The Way You Think About Pain [Indie Exclusive Limited Edition Violet/Grey/Neon Violet Mix LP]
$23.98 23.98
Armed with crushing metallic riffs, instantly both fresh and familiar, Incendiary populate each of their four full-length albums with irresistibly energized rhythms and adrenalized urgency. Change The Way You Think About Pain is their leanest and unapologetically meanest yet. The quintet weaned on the Long Island, New York, hardcore scene have more to say than ever. Sharply biting and insightful lyrics sit atop blunt metalcore in a perfect soundtrack to throw a brick through a window. 
Incendiary delivers a sound of its own, mixing classic passion and modern power. Frontman Brendan Garrone, guitarists Brian Audley and Rob Nobile, and drummer Dan Lomeli, cite East Coast hardcore heroes like Vision Of Disorder, 108, Indecision and Glassjaw as part of Incendiary's formative DNA. Less familiar listeners might liken them to a very heavy Rage Against The Machine. 
The band returned to Will Putney of Graphic Nature Audio (Knocked Loose, Every Time I Die, Vein.fm) to engineer, mix and master the new release. Many essential genre bands never made a second album, let alone a fourth. "We are kind of in rare territory being a hardcore band on their fourth LP," Garrone concedes. "It feels like a milestone. By now, you're either 'supposed' to drastically change your sound or have it be the exact same thing as the record before," he adds. "We didn't want to do either of those things. Our focus was on refining the sound that we've optimally been working towards rather than any desire to make a huge pivot."  Audley says that in addition to the more focused songwriting on Change The Way You Think About Pain, "we also wanted it to be more aggressive and more abrasive, in terms of songs and production. 
"
Thematically, Incendiary's fourth album confronts the hyper-polarization of American society, those who confuse selfishness with freedom, and the lengths we'll go to in order to avoid pain and maintain comfort. The socio-political pulse found throughout Cost of Living remains, with a deeper exploration of the introspective personal lyrics Garrone started to introduce on Thousand Mile Stare. "The album is a mix of both the socio-politically driven content and darker, more personalized subjects. The album title is meant to conjure the concept of pain avoidance," Garrone explains. "Most of the songs have some kind of tie back to the things everyone does to avoid feeling any semblance of pain. 'Pain avoidance' is a phrase me and Brian came across and kept in the back of our minds."
Featuring the Artwork of Daniel Danger. Vinyl comes packaged in a matte finish gatefold lp jacket and complimented by a printed inner sleeve.
1977
$14.98 14.98
Exploring a new style like never before – symphonic metal icons SIRENIA revolutionize their melodic darkness on the brand new studio album, 1977, out May 26, 2023 via Napalm Records. Transporting the listener to a retro auditory arcade harking back to when groovy synthwave melodies dominated the world of music, the international band merges late 70's and 80's pop rock stylings with synthwave elements and their remarkable, hard-hitting symphonic melodies - shaking the listener to the core. Once again, Norwegian mastermind, bandleader, multi-instrumentalist, composer and songwriter Morten Veland produced the 11th record, while HK at Vamacara Studio, France, took care of the mixing. It marks another prove that, after more than twenty years of existence, SIRENIA still rank at the very top of the genre. Captured within the magic of captivating 80's sonics, the four-piece opens up their enchanting new offering with the captivating opener "Deadlight". The world of soulful violin and fragile piano lines builds up an energetic atmosphere, underlined by the wistful tunes of the multi-talented mezzo soprano voice of French singer Emmanuelle Zoldan. The track is followed by the fast-paced "Wintry Heart", which gives a bittersweet taste of early 90's vibes and roaring guitars, while "Nomadic" represents SIRENIA's characteristic dark and heavy side as shredding guitar riffs alternate with playful interludes while relentless drums and symphonic electronic elements go hand in hand with another. "A Thousand Scars" marks a totally new fusion for SIRENIA, as heavy symphonic tunes dressed as remarkable rock riffs and poppy rhythms dance together with the feathery light vocals of Emmanuelle. With the eerie and epic tunes of "Fading to the Deepest Black", the song is reminiscent of their last album, Riddles, Ruins & Revelations (2021). Kicking off with vertiginous blast beats and a mesmerizing performance by Emmanuelle Zoldan, a warm vocal interlude by Morten Veland supports the song's stunning atmosphere before it leads into an impressive guitar solo. Following their operatic symphonic highs, the heavy side of SIRENIA is not forgotten and appears especially towards the end of their 11th record. Wrapping up their multifaceted album, 1977, the bonus track "Twist in my Sobriety" is an absolute time machine. The cover of the million-times-over streamed song by German born British singer Tanita Tikaram matches the surprisingly deep voice that presents Emmanuelle in a very new range, while the eerie mid-tempo appears in a brand new light of modern synth beats and characteristic synth-oboe. Morten Veland states: "'Twist in my Sobriety' is a track that I have enjoyed since it was originally released by Tanita Tikaram back in 1988. The song has a very melancholic vibe to it, which in my opinion makes it a perfect match with SIRENIA." Transporting their fans right into smokey, neon lit nightclubs, the eclectic mix of 1977 opens up exciting new facets of symphonic, electronic and groove elements in SIRENIA's music.
No Pads, No Helmets...Just Balls [Limited Edition Crystal Clear LP]
$24.98 24.98
Simple Plan's 2002 debut studio album, No Pads, No Helmets...Just Balls, produced by Arnold Lanni (Our Lady Peace, King's X), features 12 irresistible anti-anthems of adolescent alienation, each one fit to burst with unstoppable hooks, melodic punk vocalizing, and shout-it-out-loud choruses. Available on limited-edition crystal-clear vinyl. 
Ruinas [Indie Exclusive Coke Bottle Clear LP]
$24.98 24.98
Is it RAP? It is POP? Is it ROCK? Every other day we question a genre but today Rico Nasty released her long awaited Las Ruinas mixtape and we'll just call it GREAT MUSIC. The most personal and vulnerable, yet fun project is available for streaming everywhere now. In the words of Rico Nasty, 'dance, scream and daydream.'"I'm very excited to be dropping a new mixtape. I had so much fun making this project. I can't wait to share it with you guys. It's so different from anything I've ever made.And I hope you guys enjoy it!" – RICO NASTYLas Ruinas was ushered in by the single "Watch Your Man (Feat. Marshmello)," along with several other boisterous singles including "Blow Me," "Skullflower," "Black Punk," "Intrusive," and "Vaderz (feat. Bktherula)". On this body of work, we see Rico taking full creative control creating a work of art that reflects her vulnerability and authenticity. She lets you know that when you release the noise around you, magic is made.
Sweetzerland Manifesto Mkii [Limited Edition Opaque Purple LP]
$22.98 22.98
Limited opaque purple colored vinyl LP pressing. 2018 release from the legendary Aerosmith guitarist. Sweetzerland Manifesto features 11 hard-rocking original songs from the legendary Aerosmith guitarist. Joining Perry is a Murderers Row of some of the baddest names in rock, including Robin Zander (Cheap Trick), who sings on the single "Aye, Aye, Aye", David Johansen (New York Dolls), and Terry Reid. Even world-famous actor Johnny Depp gets in on the action, playing drums on "Eve Of Destruction".


War Against All [Limited Edition Baltic Blue LP]
$29.98 29.98
Produced and recorded by Enslaved's lead guiratist Arve Isdal at Conclave & Earshot Studio in Bergen, Norway, War Against All is the tenth studio album from Immortal. Formed by Demonaz (guitars) and Abbath (bass/vocals) in 1990, the band has become one of the most important black metal bands in the world. The band's last record, 2018's Northern Chaos Gods, was crowned one of the top 40 albums that year by Decibel magazine. Blabbermouth described the record as leaving jaws on the floor with the back-to-basics, icepick-to-the-skull barrage. Gatefold, Baltic Blue LP


Home Again [2LP]
$31.98 31.98
Recorded live on The Great Lawn of New York City's Central Park on May 26, 1973. Produced by Lou Adler, Carole King Home Again is a previously unreleased concert recording and a stunning document of one of the greatest contributors to the American songbook.
Baby Goat [LP]
$25.98 25.98
Young Devyn effortless delivery, extraordinary songwriting capabilities, infectious energy, and propensity to light up a room, the Brooklyn-raised artist truly showcases her versatility and lyrical proficiency throughout her debut EP, Baby Goat, in a manner that evades most industry newcomers. Describing her debut project Young Devyn shares, "Baby Goat is my true testimony about where I'm from, where I currently am and most importantly where I am headed. This project displays my versatility as a rapper, lyricist, singer and songwriter. It speaks about my struggles and triumphs and gives you insight about my life as an individual and artist."
Thelonious Monk With John Coltrane [LP]
$38.98 38.98
Regarded as one of the greatest jazz collaborations of all time, this new edition of "Thelonious Monk with John Coltrane" is release as part of the newly relaunched Original Jazz Classics Series. Pressed on 180-gram vinyl at RTI with all-analog mastering from the original tapes by Kevin Gray at Cohearent Audio it is presented in a Tip-On Jacket with obi. In addition to Monk and Coltrane the album also features the talents of Art Blakey (drums), Wilbur Ware (bass), Gigi Gryce (alto sax) and more.


The Barnestormers [LP]
$21.98 21.98
What you have right here is rockabilly royalty. They're global allstars who swing like a gate. They make the finest, finger poppin' grooves to shake your local juke joint since the glory days of fenders and fins. The Barnestormers a rockabilly supergroup featuring Jimmy Barnes, Jools Holland, Chris Cheney, Slim Jim Phantom and Kevin Shirley release their self titled album  
The Coronation Of Their Majesties King Charles III And Queen Camilla: The Official Album [2CD]
$29.98 29.98
When Their Majesties King Charles III and Queen Camilla are crowned at Westminster Abbey on May 6, 2023 the service and pre-service music will be exclusively recorded and released by Decca Records the very same day. The album will include all music and spoken word from the event. This marks the first time ever a recording of a Coronation ceremony - a tradition that goes back more than 1,000 years - will be available globally to stream and download on the day of the service itself.


VIEW COMPLETE LIST
Music Releases 06-02-23
But Here We Are [White LP]
$25.98 25.98
But Here We Are is the new album from Foo Fighters, and marks the bands return after a year of staggering losses, personal introspection and bittersweet remembrances. A brutally honest and emotionally raw response to everything Foo Fighters have endured recently, But Here We Are is a testament to the healing powers of music, friendship and family. Courageous, damaged and unflinchingly authentic, the album opens with "Rescued," the first of 10 songs that run the emotional gamut from rage and sorrow to serenity and acceptance, and myriad points in between.

But Here We Are is in nearly equal measure the 11th Foo Fighters album and the first chapter of the band's new life. Sonically channeling the naiveté of Foo Fighters' 1995 debut, informed by decades of maturity and depth, But Here We Are is the sound of brothers finding refuge in the music that brought them together in the first place 28 years ago, a process that was as therapeutic as it was about a continuation of life. 
Council Skies [LP+7in]
$39.98 39.98
7 Inch includes a studio version of the track 'We're Gonna Get There In The End' and an acoustic version of 'Pretty Boy'
Life Is But A Dream [Indie Exclusive Limited Edition Cobalt Blue 2LP]
$39.98 39.98
Avenged Sevenfold's new album, Life Is But A Dream is a timeless work of art that blurs genres. Best served as a whole and consumed en masse to truly appreciate its musical breadth and sonic depth, it marks their boldest statement and most revolutionary work to date. Written and recorded over the span of 4 years, it was produced by Joe Barresi and Avenged Sevenfold in Los Angeles and mixed by Andy Wallace in the Poconos, PA. Inspired by Albert Camus' The Stranger, the album is a journey through an existential crisis; a very personal exploration into the meaning, purpose and value of human existence with the anxiety of death always looming. Immerse into this experience…
Bunny [Powder Blue LP]
$24.98 24.98
Brooklyn bedroom-pop trailblazers Beach Fossils' new album Bunny is a triumphant return for one of the 2010s most influential NYC bands. Bunny is a precise blend of the luscious dream-pop atmospheres they notoriously honed on their earliest projects, the post-punk vigor expressed on Clash The Truth, and the warm sophisticated songwriting of Somersault. Composer Dustin Payseur peppers the album equally with descriptions of the joy of fatherhood and the existential pleasure of smoking cigarettes out of a car window with friends -- Bunny features Beach Fossils' most personal lyrics to-date.
Lucky For You [LP]
$24.98 24.98
Lucky For You is Bully's most close-to-the-bone album yet. It's an album that's searing and unmistakably marked by it's creator's experiences, while still retaining the massive sound that Alicia Bognanno has become known for over the last decade. Her fourth album draws from personal pain and the universal struggle that is existing, learning, and moving on-and it's all soundtracked by Bognanno's rock-solid melodic sensibilities and a widescreen sound that's impossible to pin down when it comes to the textures explored. These ten songs are simply the most irresistible Bognanno's put to tape yet, making Lucky For You her greatest triumph to date in a career already packed with them. Work on Lucky For You began last year, when Bognanno brought some in-progress demos to producer J.T. Daly in his Nashville studio to see if they could strike creative kismet. "Authenticity is always on my mind, without even knowing it," she explains while discussing their recording process together. "It was g


In Between Dub [LP]
$36.98 36.98
In March 2020, Jack Johnson reached out to Lee "Scratch" Perry to produce a dub remix album based on Jack's most loved recordings. On August 29, 2021, the project was brought to a halt as Scratch departed this physical world. In 2022, Jack and Subatomic Sound System, Perry's band of the last decade, connected directly and discovered they had all the pieces to bring Lee "Scratch" Perry's three creations to completion. The LP also features dubs from Dennis Bovell, Scientist, Mad Professor, Nightmares on Wax, and more.
Little Broken Hearts: Reissue [Deluxe 3LP]
$79.98 79.98
Little Broken Hearts [Deluxe Edition 3 LP] - Norah Jones defied expectations with her 5th studio album Little Broken Hearts, a striking collaboration with Danger Mouse that arrived a decade after her debut Come Away With Me, prompting SPIN to call it "the 2nd essential record of Norah Jones' career." Deluxe Edition features an expanded 31-track set curated by Jones with rare bonus tracks, alternate versions, remixes, and a previously unreleased live version of the album recorded for Austin City Limits in 2012.


Who Is Afraid Of Blue? [LP]
$23.98 23.98
An indie pop duo whose music has a cool retro vibe buoyed by smooth melodies, a naturalistic sound, and warm harmonies, Purr is a collaboration between songwriters, musicians, and longtime friends Eliza Barry Callahan and Jack Staffen. The two previously worked together as Jack + Eliza, but while that project emphasized spare and stripped-down accompaniment, Purr's recordings feature a fuller sound with a larger palette of instrumental flavors that often references '60s pop. Purr introduced themselves to the world with a 2018 single, "Bad Advice" b/w "Painted Memory," that showed off their talents as both writers and vocalists, and they further refined their style on their first full-length album, 2020's Like New and continue that on forthcoming album Who Is Afraid Of Blue?

To make it, the duo teamed up with their close friend, producer Jonathan Rado (Weyes Blood, Father John Misty, The Killers), whom they worked with on 'Like New.' They went to his North Hollywood studio, a small building behind his home. This was during Omicron, so they kept recording small, just the three of them in a room for most of the time. Programmed drums on an 808, that kind of thing. While they recorded, they screened movies. Ranging from Barbara Loden's Wanda, to Paul Thomas Anderson's Magnolia, to Dr. Strange and The Avengers. It all provided texture to the songs. Like making a score. "It's a really hermetic record," says Staffen, "which ended up feeling really special."

Sonically, Who Is Afraid Of Blue? isn't beholden by genre. It is an omnivorous record—you can hear glimmers of Aimee Mann, Radiohead, the Cocteau Twins which is fitting because Blue is in some ways a record of their process of falling in love with music all over again.

Who Is Afraid Of Blue? also exists lightly in conversation with a short novel Callahan wrote (forthcoming via Catapult, 2024), an auto-fiction document of a woman losing her hearing. And all of it comes back to those Newman works: Purr makes music that functions like those large-scale paintings so very saturated with color. Blue is a vast record, with lyrics that bend towards abstraction. But make no mistake: in that abstraction there is intense clarity. Blue is blue: a color, a feeling, a signifier, a way of looking at the world.
Life Is Like A Song [LP]
$27.98 27.98
A collection of unreleased songs from Kenny Rogers' archives that tells the story of the love, life, loss and faith between Kenny and his wife, Wanda, and their two children. The album features the long sought after "Goodbye" written by Lionel Richie, interpretations of Eric Clapton's "Wonderful Tonight" and "I Wish It Would Rain" originally recorded by The Temptations, and "Tell Me That You Love Me" a lost duet between Kenny and Dolly Parton.
Closing Time: 50th Anniversary [Indie Exclusive Limited Edition Clear 2LP]
$31.98 31.98
Closing Time foreshadows the distinctly lyrical storytelling and original blending of jazz, blues, and folk styles that would come to be associated with Waits. It is on this debut album that Waits performs enduring classics of his career "Ol' 55" (famously covered by the Eagles), the heartbreaking "Martha" and the gentle acoustic folk of "I Hope That I Don't Fall In Love With You". Reissued for the first time as a double LP to commemorate the 50th anniversary of the landmark debut with newly half speed mastering at Abbey Road Studios.
There Is No Neil Frances [Clear LP]
$28.98 28.98
Regular Jacket with Matte Varnish, Heavyweight 180g Clear Vinyl.. There is no Neil Frances. OK, sort of. Neil Frances is not a solo artist, it's the name of a duo comprised of Sydney-born Jordan Feller and Southern California native Marc Gilfry. To help you remember that Neil Frances is not a person, the duo has named it's debut LP There Is no Neil Frances. Neil Frances' signature sound is beat-driven pop infused with a more organic warmth than most modern music. Putting special emphasis on their enthralling live sets-the group quickly developed a reputation as a must-see stage artist opening for SG Lewis, Jungle, and Unknown Mortal Orchestra. The band explains, "Our new album is about self-realization and becoming the person that you dream of. The concept is that we are insects on earth who ascend into outer space to become divas at a galactic ball." The album features both GRAE and Benny Sings.


Shadow Kingdom [2LP]
$34.98 34.98
Shadow Kingdom presents Dylan performing revelatory 21st century versions of songs from his storied back catalog – including fan favorites like "Forever Young" and "It's All Over Now, Baby Blue," and deep catalog gems like "Queen Jane Approximately" and "Wicked Messenger." Originally reinterpreted for an exclusive streaming film event, which aired in July 2021, Shadow Kingdom will now be available on vinyl, CD, and streaming platforms for the first time.  The album's setlist includes 13 original songs handpicked by Dylan for his Shadow Kingdom performance plus the closing instrumental, "Sierra's Theme."
Salt
$14.98 14.98
The musical chemistry of Devon Portielje, Conner Molander, and Dylan Phillips is a continued source of wonder, even to the band, and even now - a decorous decade on. Half Moon Run's collaborative power has remained constant and unsuppressed and their new album Salt sees them revisiting the site of their bond's first forging, bringing visions to light that've been there in waiting since the beginning.

Driven by the singles 'You Can Let Go' and 'Alco', Salt is a broad and sweeping statement from a band at the height of their compositional powers. The gestation period of the songs here spans the history of the band, in an assemblage of the band's newest and oldest ideas, in juxtaposition and in alliance, the past and future at once.
Live in Rio [2LP]
$35.98 35.98
In 2015, American supergroup Hollywood Vampires played probably their biggest and one of their most legendary concerts in front of over 100,000 fans. Rock in Rio is not only one of the most famous festivals, but also the origin of the Hollywood Vampires' first live album.

With Alice Cooper as frontman, Hollywood superstar Johnny Depp, Aerosmith legend Joe Perry and producer and songwriter Tommy Henriksen, this band already has a top-class line-up. Still, the list of superstars doesn't end there. Joining them on stage are Duff McKagan (Guns N' Roses), Matt Sorum (Velvet Revolver) and Bruce Witkin (Grammy nominated producer). Special guests include Lzzy Hale (Halestorm), Andreas Kisser (Sepultura) and Zak Starkey (The Who / Oasis). A star line-up that has never been seen before on a single show.

The album was produced by Bob Ezrin (Deep Purple, KISS, Pink Floyd, etc.).
DARKFIGHTER
$14.98 14.98
2x GRAMMY-nominated band Rival Sons have announce details of their anxiously awaited new full-length album, DARKFIGHTER, which his set to arrive worldwide March 10th. Produced by longtime collaborator and multi GRAMMY Award-winner Dave Cobb, DARKFIGHTER is led by the explosive single "Nobody Wants to Die," is accompanied by an Eli Sokhn directed music video streaming now on Rival Sons' YouTube channel. The track notably marks the first new music from Rival Sons since the release of 2019's FERAL ROOTS, which earned the band two GRAMMY Award nominations.Regarding "Nobody Wants to Die," vocalist Jay Buchanan shares, "You live your life knowing that the sword of Damocles is hanging over your head by a thread. You're fully aware of the impermanence of your existence, but you can't think about it all the time—or it'll fuck your life up. I used to work in a mortuary as a service advisor for a few years, driving and opening the hearses. I'd attend three funerals per day. Sometimes, they would be filled over capacity. Other times, it would just be me, a priest, and a hole in the ground. It doesn't matter who you are; the great equalizer is coming. I was thinking of this because the music sounded like pursuit." Elaborating on the genesis of DARKFIGHTER, Buchanan notes, "DARKFIGHTER represents the cultural mitosis of isolation, the Pandemic, and the national fabric of the US getting looser and looser. When I say 'Cultural Mitosis', there are lines being drawn constantly. We're so divided, and you can't step over the lines without offending someone. It certainly informed my writing. We recognized a responsibility to put a good word on people's ears so there's a good word coming back on their tongues too. We missed the joy of the live show and that magical interaction. When it was taken from us, that made me want to sing about topics that were important. There are strong themes on this record of loss of identity, preservation of joy, and beholding light and shape again." Lead guitarist Scott Holiday added, "Records are a healthy form of escapism. I hope this one takes you as far away as possible. Our intent was to create a cinematic body of work. As soon as the doors shut behind you, you're enveloped on the ride. This is the sound of us really coming into our own. We've gotten further from our influences and gotten closer to what we are. DARKFIGHTER sounds like the Rival Sons."


Last Man Dancing [Indie Exclusive Limited Edition Orange Marble LP]
$35.98 35.98
On Last Man Dancing, Jake Shears turns his lifelong love affair with club culture into his most ambitious pop music to date. The album was brought to vivid life by Jake Shears and a close crew of collaborators, including head-turning features from Kylie Minogue, Jane Fonda, Iggy Pop, Amber Martin, and a pre-Renaissance turn from the iconic Big Freedia.
Wide Open Light [LP]
$29.98 29.98
"Wide Open Light Is a family of songs I've written.I've selected them with the care one might put into a personal photo album.To that effect, I'd call it a sonic family photo album, each track a close relative to the next.The story behind this record is simple.I have been writing songs now for over 30 years.It's what I long to do, love to do, and at times feel I need to do, and hope to continue doing until the ink runs dry and the notes fade.But for now, Wide Open Light.Deliberately minimalist, the songs themselves do as much of the heavy lifting as the production.(produced by myself, and my longtime collaborators Danny Kalb and Jason Mozersky)Featured guests on the album include:Jack Johnson guitar, vocals on 'Gone For Good'Shelby Lynne vocals on '8 Minutes'Piers Faccini vocals on 'Wide Open Light'" - Ben Harper


Pour It Out Into The Night [Indie Exclusive Limited Edition Sun Marble LP]
$24.98 24.98
The Revivalists make the kind of rock 'n' roll that grabs you and doesn't let go. On their fifth full-length release, the New Orleans outfit was inspired to create a life-affirming album that in many ways connects to the original seed of inspiration for the band's name. Pour It Out Into The Night is a celebration of resilience, living for who you are and what you're about.
Folkocracy [LP]
$39.98 39.98
Folkocracy - Rufus Wainwright - Rufus Wainwright has announced Folkocracy, a star-studded album of folk music reinventions that sees the 2x GRAMMYr Award-nominated singer-songwriter joined by a spectacular collection of friends, family members, and other special guest artists that includes Brandi Carlile, John Legend, David Byrne, Sheryl Crow, Nicole Scherzinger, Chaka Khan, Andrew Bird, ANOHNI, Susanna Hoffs, Van Dyke Parks, Madison Cunningham, and many more.


Formal Growth In The Desert [Indie Exclusive Limited Edition Blue LP]
$29.98 29.98
Since their 2012 debut, Protomartyr have mastered the art of evoking place: the grinding Midwest humility of their hometown, as well as the x-rayed elucidation of America that comes with their vantage. The group's sixth album was recorded at Sonic Ranch in Tornillo, TX with producer Jake Aron. "The desert is more of a metaphor or symbol," singer Joe Casey says, "of emotional deserts, or a place or time that seems to lack life." The "growth" came from a period of colossal transition for Casey, including the death of his mother. But life does go on, and Casey describes the great theme of Formal Growth In The Desert as an embrace and acknowledgment of that fact: a 12-song testament to "getting on with life," even when it feels impossibly hard.


Stakes Is High [2LP]
$34.98 34.98
Stakes is High is the 4th studio album by de la Soul, released on July 2, 1996. Stakes is High was critically lauded for it's music, lyricism, and it's overall message concerning the artistic decline rap music began to face in the mid-90s. The title track and first single was produced by J Dilla and the album's second single, "Itzsoweezee (HOT)", with only Dave on vocals, was accompanied by a creative music video. The album spawned a third single "4 More", featuring Zhane. The album did provide a launching pad for future star rappers and actors Mos Def, who appeared on the track "Big Brother Beat" and Common who is featured on "The Bizness"
Sweet Western Sound
$13.98 13.98
Sweet Western Sound is Tanya Tucker's first album of new music since 2019's 2x-Grammy Award-winning, While I'm Livin', the re-introduction that revitalized her career and brought her music to a new generation of fans. While that album's stripped-down, singer-songwriter approach leaned toward the acoustic side, Sweet Western Sound's framework is more muscular, evoking, at times, the vintage West Coast country-rock productions of the '70s and '80s. Produced by Brandi Carlile and Shooter Jennings. 
Sidewalks [RSD Essential Indie Colorway Blue LP]
$24.99 24.99
Indie Exclusive * First Time on Colored vinyl and the first pressing since the orginal pressing in 2010 * From the band - Some of our favorite lyrics we've ever written are on this album. I probably won't have a grave stone, but if I did, I'd like these lyrics printed on it: "TIRED DOGS REST THEIR PAWS"


Grand [RSD Essential Yellow w/Orange & Black Splatter LP+7in]
$29.99 29.99
RSD Essential 037 * Includes a bonus 7" - Live in Bonnaroo 2013 - exclusive to this pressing * From the band - We self produced/recorded this album in a room with no heat in the middle of winter. We never expected you, the person who is reading this, would ever hear it. I think that's really part of the magic of it.
Bluebird Days [2 LP]
$29.99 29.99
Jordan Davis will release his 2nd studio album, Bluebird Days, on Double LP on June 2, 2023. The highly anticipated album features 17 songs, including the #1 double-platinum CMA Song of the Year, "Buy Dirt" feat. Luke Bryan. The hit song (about faith, family and friends) continues to resonate with fans worldwide, topping the Country Radio Airplay chart for 2 weeks, amassing over 735M global streams and earning NSAI Song of the Year. The album also includes the #1 Country hit, "What My World Spins Around."
The Lockdown Sessions [LP]
$25.98 25.98
The Lockdown Sessions was recorded at home during the Covid lockdown between 2020 and 2021. The collection includes five seminal tracks from across Roger Waters' time with Pink Floyd and his solo career; "Mother" and "Vera" from Pink Floyd The Wall; "Two Suns In The Sunset" and "The Gunner's Dream" from Waters' final Pink Floyd album, The Final Cut; and "The Bravery of Being Out Of Range" from his highly acclaimed solo album, Amused To Death. Waters' new version of the classic Pink Floyd song "Comfortably Numb", which was recorded during the recent "This Is Not A Drill" tour features as the final track.
Bravo! [Cobalt LP]
$20.98 20.98
Sorry Girls have danced out of the darkness into the light. Since forming in 2015, the Montreal duo of Heather Foster Kirkpatrick and Dylan Konrad Obront have transformed an eerie, dreamlike sound into lush, pleasure seeking pop. Expanding upon their debut album, Deborah, the band's deftly arranged sophomore LP, Bravo!, sings to the back rows of the stadium, drawing listeners inward with a newfound focus on personal lyrics.
The Perfume Of Decay [Indie Exclusive Limited Edition Gold LP]
$22.98 22.98
Tigercub return with their highly anticipated new album The Perfume Of Decay via Loosegroove Records (the label co-founded by Pearl Jam guitarist Stone Gossard). 

With The Perfume of Decay — Tigercub' third record of nocturnal, hard-hitting rock, as well as their first full-length release for Loosegroove Records — frontman Jamie Hall draws the curtains shut and embraces a moody, melancholic sound that's every bit as cinematic as Hollywood itself. It's an album about counterpoint and opposites, stacked with songs that contrast overdriven guitars with whispered vocals, tight grooves with shoegazing swells of noise, sonic experimentation with sharp songwriting. For a band that's always trafficked in drama and dynamics, The Perfume of Decay marks Tigercub's strongest release to date.
I've Loved You For So Long
$11.98 11.98
In the years since The Aces released their acclaimed sophomore album, 'Under My Influence' in 2020, the band has been on a journey of self-discovery. Faced with the realities of a global pandemic, sisters Cristal and Alisa Ramirez (lead vocals/guitar and drums, respectively), Katie Henderson (lead guitar/vocals), and McKenna Petty (bass) used quarantine as a time to reflect, confronting personal mental health issues as well as processing experiences they'd had growing up together in Provo, Utah, as part of the Mormon church. When The Aces returned to the studio, their vision — and the honesty and trust between them — felt stronger than ever. The result of this growth period is 'I've Loved You For So Long,' the band's third LP. Written and executive-produced by the group (along with Keith Varon, the sole collaborator on the project), the album is a sparkling indie-rock record that's by far their most personal and self-assured work to date. From tracks that ruminate on mental health and self-sabotage to searing anthems about love, longing, and heartbreak, 'I've Love You For So Long' is a record that'll work its way into your head and heart — and will have you singing along all the way through.
Carnivore [Limited Edition Crystal Clear LP]
$24.98 24.98
Ltd. Edition Crystal Clear Vinyl. Carnivore is one of the most unique bands ever. This first album was their introduction to larger-than-life vocalist/bassist Pete Steele, and even though Type O Negative's epic brand of gothic metal was still just a glimmer in his eye, in retrospect one can already recognize the fascinating range of creative contradictions that would always characterize the 6'7" man's work. Petrus Steele (as he was then calling himself), guitarist Keith Alexander, and drummer Louie Beateaux generally focused their energies on incredibly brutal and intentionally raw full-on thrash-outs like "Predator," "Carnivore," and "Legion of Doom"; plus they wore the Mad Max apocalyptic caveman attire on the album's rear sleeve to back it up! This re-mastered reissue comes as Ltd. Edition Crystal Clear Vinyl.
Wandering Rebel [Sea Blue LP]
$22.98 22.98
There's freedom to be found in consistency. Until recently, Juan Wauters may not have agreed with this statement. As a touring musician and multinational citizen, transience had always come naturally to him. Circumstance, however, recently prompted him to reconsider the benefits of staying in one place. His most introspective work to date, Wauters' sixth solo album Wandering Rebel finds the artist taking stock of how he's changed, how the world sees him, and what he wants out of life.
Unknown Road: 30th Anniversary [Orange & Blue Galaxy LP]
$26.98 26.98
On Unknown Road, Pennywise steps up their songwriting, maintains all their fury and intensity, and lays out their philosophy of independence and the importance of daring to live every moment to it's fullest. This album featured a number of songs that played on tons of skate, surf and snowboarding videos, making this, and other PW records to come, the soundtrack to the exploding extreme sports board scene. Featuring such Pennywise classics as "Homesick," "Unknown Road," "It's Up To Me," and "You Can Demand," Unknown Road is arguably the quintessential So Cal hardcore record of the '90s. Reissued on limited edition Orange & Blue Galaxy vinyl to celebrate the album's 30th anniversary! 
VIEW COMPLETE LIST
Music Releases 08-25-23
A Cat In The Rain [Indie Exclusive Limited Edition Opaque Tan LP]
$23.98 23.98
One of America's most beloved independent bands, Turnpike Troubadours will release their highly anticipated new album, A Cat in the Rain, August 25 via Bossier City Records/Thirty Tigers (pre-order/pre-save here). Ahead of the release, comes the new song, "Mean Old Sun," alongside an official music video. Watch the video, directed by Sterlin Harjo and filmed at Tulsa's Cain's Ballroom, at the top of this page.

In conjunction with the new music, the band recently spoke with Rolling Stone, who declares, "he [lead singer Evan Felker] is more focused and lyrically crisp than at any point in his life. He's a poet, but he's direct."

Produced by Shooter Jennings and recorded at Muscle Shoals' Fame Recording Studios and Dave's Room in Los Angeles, A Cat in the Rain marks a long-awaited return for the band following their self-imposed hiatus in 2019. With these ten new songs, Turnpike Troubadours is back with a refreshed perspective on the authentic songwriting and signature foot-stomping sound that first captivated their deeply devoted fanbase.

Pioneers of the Red Dirt music scene, Turnpike Troubadours has amassed a massive following throughout their career with over 1.28 million equivalent units sold to-date. Originally from Tahlequah, OK, Turnpike Troubadours is Evan Felker (vocals, guitar), Kyle Nix (fiddle), Ryan Engleman (electric guitar), RC Edwards (bass), Gabe Pearson (drums) and Hank Early (steel, accordion).

Known for their relentless touring and electric live shows, the band will perform through this fall including newly confirmed headline shows at New York's Beacon Theater, Nashville's Ryman Auditorium (two nights), Washington DC's The Anthem, Los Angeles' Greek Theater and Fort Worth's Billy Bob's (three nights) among several others. The band will also perform at select festivals this summer including Newport, RI's Newport Folk Festival, Pryor, OK's Born & Raised Festival, Memphis, TN's Mempho Music Festival and Charleston's Riverfront Revival Music Festival.
Sunday At The Village Vanguard: Original Jazz Classics Series [LP]
$38.98 38.98
The first of two albums recorded at the legendary final appearance of the Bill Evans Trio at the Village Vanguard, these recordings have long been recognized as capturing the unique interaction that characterized the trio of Evans, LaFaro and Motian. This new edition of Sunday At The Village Vanguard is released as part of the OJC Series and is pressed on 180-gram vinyl at RTI with all-analog mastering from the original tapes by Kevin Gray at Cohearent Audio. It is presented in a Tip-On Jacket.


A Call To The Void [LP]
$23.98 23.98
For some, it might feel like a long time coming but Hot Milk always knew that when the time came to make their debut album, they had to be ready for it.  It will be their loudest statement yet of who they are and what they stand for, an opportunity to show the world what they are made of.  Tracks on the debut album walk on a tightrope between the humorous and the serious, brimming with what might be called positive nihilism.  They're not so much finding the light in the dark as they are laughing, because if they don't, they'll cry.  With A CALL TO THE VOID, Hot Milk are set to launch themselves into the upper echelons of the British rock scene.
Psychopath [LP]
$25.98 25.98
An astounding 13-track LP crafted with the help of some of Nashville's most extraordinary musical talents, from A-list songwriters to studio musicians and, of course, her longtime producer-guru/song whisperer Sadler Vaden, Psychopath most excitingly finds Wade peeling back layers of her psyche like never before.


No Joy [Indie Exclusive Limited Edition Clear w/Silver & Black Twist LP]
$25.98 25.98
Back with their first original music since 2020, this is the start of a new era. Each single will be presented with an official music video and full global marketing campaign at the start of a brand-new cycle. The album is produced by Colin Pastore. For fans of Gaslight Anthem, The Wonder Years, Taking Back Sunday. 
From the band: 
"It may not be immediately obvious on an album called No Joy, but I've grown bored with the darkness. I've spent three years finding out that all of my grand plans cannot stop the world, my complaining doesn't make me happy, and the happiness I do find is finite. This is an album about making peace with that. It's a foolish attempt to hold onto what I love as tightly as possible. An album of songs for the people I miss and am going to miss for the rest of my life. The band has reconvened with the same energy. We're holding onto this as long as we can. We've torn the band down and built it back up to record the exact album we've been wanting to make. And we've ultimately arrived at the next stage of the band's evolution."
Real Life [Clear LP]
$21.98 21.98
Crooks & Nannies is a collaboration between multi-instrumentalists Sam Huntington (she/her) and Max Rafter (they/them). The duo's signature blend of brash, confessional indie rock functions on extremes. Alternating between painfully tender and jarringly obtuse, the childhood friends fashion themes of growth, loss, and transformation into off-kilter pop songs that whirr with the unpredictability of a failing engine. In early 2020, just days after Huntington decided to start hormone therapy, her father was diagnosed with terminal cancer. After his passing, she and Rafter retreated to the partially-finished, off-grid cabin that her father had been building prior to his diagnosis. It was the first time either of them had been back to their hometown in upstate NY since transitioning, and it resulted in a distinct contrast between vulnerable, melancholy hush and explosive, confused guitar throughout every fiber of their new record, Real Life. 
Bite [Indie Exclusive Limited Edition Peak Antifreeze Green LP]
$22.98 22.98
The moment the needle drops on Bite, the new A Giant Dog record, one's conception of what an A Giant Dog record sounds like bends like space and time around a starship running at lightspeed. The biggest point of departure is that Bite is a concept album, concerning characters who find themselves moving in and out of a virtual reality called Avalonia.

A Giant Dog's first album of original songs since 2017's Toy, Bite finds the band—Sabrina Ellis, Andrew Cashen, Danny Blanchard, Graham Low, and Andy Bauer—at their peak as musicians, challenging themselves with more complex arrangements and subject matter that forced them out of their heads and into those of the characters who occupy this supposed paradise. "We had to find ourselves within, or project ourselves into, the principal characters. We developed them, got to know their minds, emotions, and motivations, and then expressed those in nine songs," Ellis explains.

Themes of addiction, gender fluidity, living ethically in a capitalist society, physical autonomy, avarice, grief, and consent bubble beneath the promised happiness of Avalonia. This is evident in songs like "Different Than," where Ellis sings, "My body can't explain the things my mind don't comprehend" as if societal gender pressure is squeezing its protagonist out of their skin.

The songs on Bite are full of bombast, at turns calling to mind the spacefaring operatic rock of Electric Light Orchestra and the high drama of an Ennio Morricone film score. The album's narrative sweep is epic in scope, its characters facing impossible odds and certain doom, existing as comfortably with the sci-fi grandiosity of Thin Lizzy's Jailbreak as it does with the high fantasy of Dio and Iron Maiden.

Appropriately, A Giant Dog came to this narrative armed to the teeth with new ideas, unleashing synthesizers and string sections to create what Ellis describes as orchestral, symphonic, futuristic punk. To achieve this, they left their home turf of Austin, Texas, for La Cuve Studio, just outside of Angers, France. Living in the French countryside, A Giant Dog laid down their vision of the future against a decidedly pastoral back-drop. On walks from Angers to La Cuve, Ellis says that they "would see many things, and also nothing at all. Swans on the river. Romani people living in little trailers, with a side hut built for their dog. A juggler on a unicycle—not fucking with you." "We thought we wouldn't be allowed back in France after this trip, to be honest," they continued. "Five loud, stomping, clapping, rowdy Americans who ran through the
streets of Angers for three weeks in November 2022."

The experience capped two years of planning and writing, fleshing out the universe of Avalonia beyond the bounds of most concept albums. The resulting nine songs do not merely occupy this space: They've lived in it, and they want out.
WEEDKILLER [Indie Exclusive Limited Edition Alternate Art Recycled Vinyl with Blue Tint LP]
$27.98 27.98
Debut album WEEDKILLER is a collection of irresistible songs that perfect the bold, genre-blending sound that has defined Ashnikko's work to date. While the acclaimed 2021 mixtape DEMIDEVIL showcased a head-on approach, directly tackling themes of sexual revolution and revenge, WEEDKILLER is more allegorical. 
 
A half-concept album set in a dystopian future, the WEEDKILLER universe that Ashnikko has created tells the story of a fae civilization occupied and destroyed by machines that feed on organic matter where the faerie protagonist seeks revenge by becoming part machine - a poetic commentary on environmental disaster and the rapid evolution of technology, while also confronting real-world issues from sexual empowerment to tech warfare and ecological collapse. Full of equal parts naked vulnerability and joyful rebellion, WEEDKILLER gives a thundering voice to the oppressed.
 
Speaking on the announce, Ashnikko states "My bioluminescent heart is glowing. My post-apocalyptic fae world is here for you to journey into. My wings have been ripped out, but I've built them anew using WEEDKILLER machine parts. I am the one sent here to eliminate you, WEEDKILLER."
VIEW COMPLETE LIST
Music Releases 06-09-23
Weathervanes [Indie Exclusive Limited Edition Natural LP]
$29.98 29.98
A Jason Isbell record always lands like a decoder ring in the ears and hearts of his audience, a soundtrack to his world and magically to theirs, too. Weathervanes carries the same revelatory power. This is a storyteller at the peak of his craft, observing his fellow wanderers, looking inside and trying to understand, reducing a universe to four minutes. He shrinks life small enough to name the fear and then strip it away, helping his listeners make sense of how two plus two stops equaling four once you reach a certain age -- and carry a certain amount of scars.

"There is something about boundaries on this record," Isbell says. "As you mature, you still attempt to keep the ability to love somebody fully and completely while you're growing into an adult and learning how to love yourself."

Weathervanes is a collection of grown-up songs: Songs about adult love, about change, about the danger of nostalgia and the interrogation of myths, about cruelty and regret and redemption. Life and death songs played for and by grown ass people. Some will make you cry alone in your car and others will make you sing along with thousands of strangers in a big summer pavilion, united in the great miracle of being alive. The record features the rolling thunder of Isbell's fearsome 400 Unit, who've earned a place in the rock 'n' roll cosmos alongside the greatest backing ensembles, as powerful and essential to the storytelling as The E Street Band or the Wailers.

They make a big noise, as Isbell puts it, and he feels so comfortable letting them be a main prism through which much of the world hears his art. He can be private but with them behind him he transforms, and there is a version of himself that can only exist in their presence. When he plays a solo show, he is in charge of the entire complicated juggle. On stage with the 400 Unit, he can be a guitar hero when he wants, and a conductor when he wants, and a smiling fan of the majesty of his bandmates when he wants to hang back and listen to the sound.
The Show [LP]
$29.98 29.98
Niall Horan's `The Show' - his third solo album and first since 2020's chart-topping `Heartbreak Weather' - will be released on June 9, 2023. Preceded by its lead single "Heaven," the album matches the pure emotion of his globally beloved past work with a powerful new element of soul-searching reflection. Each vinyl copy of `The Show' includes a randomly selected print of a letter handwritten by Niall about a song from the album.
Joy'All [Indie Exclusive Limited Edition Green LP]
$27.98 27.98
Jenny Lewis' fifth solo album, Joy'All arrives June 9th. Joy'All finds the singer-songwriter embarking on a new era, in a new town – and on a new label, as she joins the iconic roster of Blue Note/Capitol Records. While Joy'All pulls from a bounty of sonic inspiration – from classic soul to '90s R&B, as well as country and classic singer-songwriter records – the album's rich, intimate and warm live sound is the hallmark of eight-time GRAMMY-winning producer Dave Cobb. Recorded at Nashville's historic RCA Studio A, Joy'All includes new single "Psychos" and the previously released single "Puppy and a Truck."
PARANOĎA, ANGELS, TRUE LOVE [3 LP]
$45.99 45.99
3 LP Packaging: 3 LP 180-gram heavy vinyl edition, 20 new songs.

Christine and the Queens presents his new album PARANOĎA, ANGELS, TRUE LOVE. Includes "To be honest" and guest appearances from Madonna and 070 Shake.
$oul $old $eparately [Indie Exclusive Limited Edition Neon Yellow LP + Flexi Disc]
$31.98 31.98
A lot of people don't realize that Freddie has actually been in the game for over a decade and came in on the same Freshman XXL cover as Meek Mill, Nipsey Hussle etc…
Yet he was the only one with no major Label Backing or Artist Affiliation and his partnership with Warner is his very first solo Major Label deal.
With that being said, he feels as if he has made it thus far in his career without compromising his morals, Creative Integrity and Principals as a Man all while resisting temptations ….Hence the title "$oul $old $eparately."
Strangers No More [LP]
$22.98 22.98
There are no strangers at a Drew Holcomb show. For the better part of two decades, the award-winning songwriter has brought his audience together night after night, turning his shows into celebrations of community, collaboration, and contemporary American roots music. Strangers No More, the eighth album from Drew Holcomb & The Neighbors, celebrates that sense of togetherness. Produced by Cason Cooley, it expands the band's mix of timeless songwriting, modern-day Laurel Canyon folk, amplified Americana, and heartland rock & roll.


My Guardian Angel [LP]
$24.98 24.98
Jakob Armstrong (youngest son of Green Day frontman Billie Joe) began playing guitar at 7 years old and honed his craft privately until he met friends with like-minded tastes in music and Ultraman action figures. Produced by Chris Coady (TV on the Radio, Yeah Yeah Yeahs, Beach House), Ultra Q's My Guardian Angel offers a deep sonic palette that varies between pop-punk and synth-pop, displaying Armstrong's songwriting talents with the musicianship of Kevin Judd and brothers Chris and Enzo Malaspina.
Social Lubrication [Indie Exclusive Limited Edition Deluxe Red & Black LP]
$33.98 33.98
Following the menacing but heartfelt return single "Leech", Dream Wife return in 2023 with their long awaited third album Social Lubrication. It's a rock-heavy, call-to-arms for empathy, in a world still propped up by patriarchal systems and underhand codes of silence. "Social Lubrication is built from foundations of trust, honesty & friendship developed over years of making music, experiencing life, love & rocking out together; wall to wall with hot n heavy dirty rockers, sultry, dangerous, vulnerable, untamed, feral, political statements with a healthy dose of silliness. Exploring the alchemy of attraction; lust for life; importance of community; calling out patriarchal structures in society & having a party while we're at it! Horny at the end of the world..."
Hagata [Seafoam Blue LP]
$29.98 29.98
From the tender-hearted "Jinzou Maria" to the rumbling and raucous "Yurei Zanmai", the songs of Hagata bear an eerie yet somehow familiar sensation. Japanese pop tones, Serge Gainsbourg grandeur, folk whisper, and Brazilian surf rock all mix into the psychedelic stew. Blending past and present, from Canada to Japan, multiple lives lived at once, each track carries a sense of change, impact, of having been marked in an intimate way. And yet the force behind that marking is always just out of grasp, a wisp, a ghost, an energy, a spirit that compels you to keep reaching.
MMJ Live Vol. 3: Bonnaroo 2004 [Indie Exclusive Limited Edition Thunderdome (Cloudy & Clear) 2LP]
$34.98 34.98
My Morning Jacket, touring behind It Still Moves, took the stage at Bonnaroo on a scorching hot day in the summer of '04. Ominous dark clouds rolled in early in the performance. "I'll never forget it," reflected Jim James "We're playing & the sky just rips open & rain starts pouring down. People are losing their minds... Everybody is petrified that we're going to get electrocuted, but it was such a transcendent moment that we just didn't care." It would become one of the festivals most iconic sets.
Be Opened By The Wonderful [Indie Exclusive Limited Edition White 2 LP]
$39.98 39.98
Recorded at Blueprint Studios in Manchester in celebration of their 40th Anniversary, Be Opened By The Wonderful is a celebration of James' most loved and rare tracks, reimagined with a 22-piece orchestra and 8-piece choir and including one brand-new track, "Love Make A Fool." Tim Booth says "Life begins at 40. For our midlife euphoria we recorded a double orchestral album of some of our deepest cuts." Indie Exclusive White 180-gram 2 LP.
The Gold Experience [2LP]
$32.98 32.98
The Gold Experience, released in 1995, was the first full-length Prince album to be credited to his unpronounceable symbol and was released at the most public, heated stage of his battle with the major label industrial complex. With the word "SLAVE" written on one cheek, Prince shined on the opulent ballads "The Most Beautiful Girl in the World" and "Gold" and the defiant single "[eye] Hate U," and the album earned widespread critical acclaim. Available as black vinyl double LP.
The Truth [LP]
$25.98 25.98
The Truth is widely regarded as one of Prince's most underappreciated hidden gems. The album was originally released as an accompaniment to the 1998 triple album Crystal Ball, which marked the first time that Prince released an album totally independently. The Truth was also the first Prince album to be labeled "acoustic," though it does contain electronic instruments and elements, and it gave listeners an unprecedented chance to hear his songwriting and voice in a stripped-down presentation. Available on black vinyl as a single LP.
when the poems do what they do [2LP]
$44.98 44.98
Aja Monet's poems are a work of gravity. They are a fundamental for which all things are attracted, considered upon and enacted towards. Her work moves, constantly, between origin and outcome, allowing them to exist in converse. In her debut album when the poems do what they do, we glimpse her indefatigable commitment to speak. Those thematic origins of this album at times center around Black resistance, love and the inexhaustible quest for joy. In when the poems do what they do Aja Monet appears as a woman of letters and storm, her poems do not roar in pentameter - but rather in storm surge because, "Who's got time for poems when the world is on fire?!." And this work isn't one to pull apart into one liners, these are poems of things felt. There is a fullness here that can't be encapsulated in even the boundaries that language offers. Aja Monet is a griot, a storyteller, a chronicler, and your grandmother telling you about her first love all at once. These are baby making poems - literally the spring enacting upon the cherry trees. These are poems of urgency and want and the rallying cry to demolish the insidious systems from which our futures seem to be wrought, in other words,"If we had a sense of humor we'd be more radical. More migrant than citizen we'd breathe the air clean and ration our resources... we would melt ALL the guns." You will find yourself readying arms because of these poems, and simultaneously mourning the unstoppable loss of names already destined to be immortalized. Aja Monet crafts a work as she always does, that can be entered from many doors. These aren't poems for poets, but poems for everyone.


The Marvelous Mrs. Maisel : Season 5 (Music From The Original Amazon Series)
$12.96 12.96
The acclaimed, award-winning Prime Video series, The Marvelous Mrs. Maisel, returns for its final season with a brand-new soundtrack. In the fifth and final season, Midge finds herself closer than ever to the success she's dreamed of, only to discover that closer than ever is still so far away. The Marvelous Mrs. Maisel: Season Five (Music from the Amazon Original Series) features timeless classics as well as eight new original cast recordings and covers. The Marvelous Mrs. Maisel season five will premiere its first three episodes on Prime Video on April 14, with a new episode dropping every Friday until the series finale on May 26.
The Hurting [Half-Speed LP]
$32.99 32.99
Tears For Fears debut album The Hurting was released on March 7, 1983 and peaked at #1 on the U.K. albums chart in its second week of release. It reached platinum status in January 1985 and contains three Top 5 U.K. singles – "Mad World," "Change," and "Pale Shelter." This LP has been mastered at Abbey Road Studios and cut at half-speed for superior quality.
Mussorgsky: Pictures At An Exhibition / Night On Bald Mountain [LP]
$29.98 29.98
Hailed as "one of the best recordings Telarc has ever done" by Stereophile, the 1980 recording of Moussorgsky's Pictures at an Exhibition, performed by The Cleveland Orchestra and conducted by the legendary Lorin Maazel, cemented Telarc's status as the preeminent classical audiophile recording label. This reissue was mastered from the original Soundstream tapes by Paul Blakemore, cut by Ryan Smith at Sterling Sound, and pressed on 180-gram LP pressed at Optimal.


Rachmaninoff: Piano Concerto: No. 3 / Scriabin: Etudes [2LP]
$37.99 37.99
Marking the debut orchestral recording of legendary Lang Lang's illustrious career, this Telarc classic includes the pianist's performance of Piano Concerto No. 3 in D minor, Op. 30 with the St. Petersburg Philharmonic Orchestra from Proms at the Royal Albert Hall in 2001, as well as his solo performance of a variety of Scriabin's Etudes. Mastered from the original Soundstream tapes by Paul Blakemore, cut by Ryan Smith at Sterling Sound, and pressed on 180-gram LP pressed at Optimal.
Blomi [LP]
$31.98 31.98
Vinyl LP pressing. 2023 release, the sixth solo album from Norwegian singer/songwriter. The album finds Sundfřr strengthening her roots as she digs deeper into familial connections from her past, present, and future.


Lost At Sea [LP]
$32.99 32.99
Rob Grant will release his debut album, Lost At Sea, on June 9, 2023. An accidental recording artist, Grant has never had a lesson on any instrument in his life, but when he sits down at a piano, something magical happens. Father of international icon Lana Del Rey, he enlisted an array of talent to contribute to the making of the album. Features and writing credits include Lana Del Rey, while production credits include Jack Antonoff, Luke Howard, Laura Sisk and Zach Dawes.
Mr. Misunderstood [Limited Edition Blue LP]
$27.98 27.98
This is the 3rd Pressing of "Mr. Misunderstood" on 180 Gram- Blue Vinyl.  Mr. Misunderstood was originally released in November 2015.  It was produced with long time music producer Jay Joyce.   It reached #1 on Billboard Country Album charts and it included the hit singles- "Kill A Word", "Record Year", and "Round Here Buzz"
Just Like A Rose: The Anniversary Sessions [Transparent Green LP]
$29.98 29.98
Just Like A Rose: The Anniversary Sessions (TRANSPARENT GREEN VINYL) by Laura Cantrell - After a nine-year hiatus, Laura Cantrell, a familiar presence in the international Americana & Roots music scene, is back with her latest studio album. Over the years, she has won over loyal audiences both in her home country and the UK through her constant touring and numerous media appearances. Although the album was originally intended to commemorate the 20th anniversary of her debut album, the recording was delayed due to covid restrictions. This new collection was expertly crafted in studios located in both New York City and Nashville, with the help of renowned luminaries like Steve Earle, Buddy Miller, and Rosie Flores.


Exorcist [Limited Edition Purple LP]
$29.98 29.98
Limited purple colored vinyl LP pressing. 2023 release. On Exorcist, Birchwood delivers the most far-reaching, musically adventurous album of his career. Exorcist was recorded in Florida and produced by Grammy Award-winner Tom Hambridge, with each of the 13 vividly detailed songs written and arranged by Birchwood. The soul-baring tracks all hit with lasting rhymes and unexpected rhythms. Each twists it's own tale, ranging from the love-gone-wrong Horns Below Her Halo to the love-gone-terrifying Exorcist to the ripped-from-the-headlines escapades of FLorida Man and Swim At Your Own Risk to the autobiographical Underdog. According to Blues Music Magazine, "Selwyn Birchwood heralds a fresh, exciting new direction in the blues. Toe-tapping, hip-shaking, joyful and inviting... expansive and focused, exploratory and time-honored, but always original."


VIEW COMPLETE LIST
Music Releases 09-01-23
At The Roadhouse [2LP]
$34.98 34.98
Wide-spine two-pocket Gatefold jacket, 2x Printed innersleeves. 2x Heavy 180g vinyl (1x "Sunset Burst", 1x "Cadillac Blue"). Australian indie folk rock band The Paper Kites release their highly anticipated sixth album - At The Roadhouse. The song and production background began when the band created a roadhouse in rural Australia, performing an unannounced month-long residency in the small Victorian town of Campbells Creek, whilst working on their sixth record. The atmosphere of the live performance is recreated with pedal steel and crooning vocals and harmonies. The song lyrics reminisce of a romance still as alive as a blue flame. "We had talked about this for years" Sam Bentley explains, "We were drawn to the idea of holding up in a town somewhere and playing the evenings as a house band. The Roadhouse became this place for us." Expanding their line-up, the five members of The Paper Kites recruited three extra musicians to make up their roadhouse band, including multi-instrumentalist Matt Dixon - who's weeping pedal steel features on the track - as well as Hannah Cameron and Chris Panousakis.
Sumday: Twunny [Limited Edition 4LP Box Set]
$109.98 109.98
"Sumday is all glorious, throbbing heart." - PITCHFORK
"the band also reaffirms a gift for creating melancholic melodies that are surprisingly sturdy and self-assured." - ENTERTAINMENT WEEKLY
"cool indie-rockers make a summer blockbuster." - SPIN
Limited-edition 4-LP vinyl box set includes: remastered
Sumday
double LP on black vinyl,
Sumday: The Cassette Demos
vinyl LP, and
Sumday: Excess Baggage
vinyl LP which features
Sumday
-era b-sides and rarities.
Battle Maximus: 10th Anniversary Edition [Crystal Blue with Dark Blue Swirl LP]
$33.98 33.98
Remixed, Remastered and featuring the final unreleased song from the late Oderus Urungus
The final album of GWAR founder and lead singer Oderus Urungus has been remixed and remastered for this release. It also includes the song "Tammy, The Swine Queen" which is his final recording and has never before been released. The LP includes a limited edition embossed cover with new art throughout including behind the scenes photos from this time period and a Listeners Guide that details the story of the album.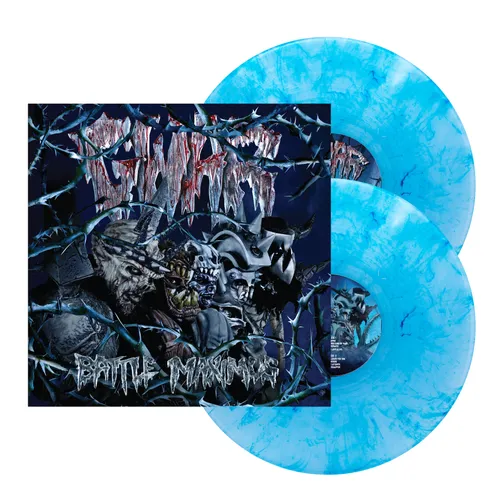 VIEW COMPLETE LIST
Music Releases 09-08-23
Slow Burn [Splatter LP]
$28.98 28.98
Splatter Vinyl. Mascot Records is proud to announce the new album from Conquer Divide called, 'Slow Burn'. 'Slow Burn' ushers in a new era for Conquer Divide, one defined by breathtaking sonic refinement, intensely personal lyrical storytelling, and a seamless balance between hard-hitting modern metal and irresistible melody. On this record, the band taps into a broader sound, walking a well-executed, genre-defying tightrope between pop, rock, and metal without sacrificing what they do best: writing compelling songs. "This album doesn't have any skips on it. I think every song is powerful and important," says vocalist Kiarely Taylor. "Every song has something everyone can relate to, and each of them is unique." Conquer Divide's Mascot Records debut, 'Slow Burn'.


Black Classical Music [Indie Exclusive Limited Edition White 2LP]
$34.98 34.98
Black Classical Music, the first official solo release of the acclaimed UK drummer, Yussef Dayes. Across 19 tracks, it melds the spirit of everything from 70s funk, reggae and Senegalese percussion while simultaneously nodding to furious dancefloor pacings of the soundsystem continuum. At every turn, Yussef's distinctive drum licks and Rocco Palladino's bass are the sturdy anchors; aided by Charlie Stacey/Elijah Fox (keys/synths), Venna (saxophone) and a whole host of honorable features including: Chronixx, Jamilah Barry, Tom Misch, Shabaka Hutchings, Miles James, Sheila Maurice Grey, Nathaniel Cross, Theon Cross and the Chineke! Orchestra, the first professional orchestra in Europe to be made up of majority Black and ethnically diverse musicians.

Yussef Dayes' rise can be first linked to the short lived duo Yussef Kamaal, with keyboardist Kamaal Williams who released one album Black Focus, in 2016.  2019/2020 birthed two EPs and one album within close proximity: Blackfriars, and Duality, and sandwiched in between, What Kinda Music, a collaboration with Tom Misch. Since then, his list of collaborators has blossomed to include an official remix of Pa Salieu's "Frontline", drums on "Motor City Madness (People Mover Remix)" for Waajeed, and on Wizkid's "Made In Lagos" album, plus production for Kali Uchis ("Blue") and Kehlani ("Hate The Club") and 2022's joint release with Soulection entitled Live At Joshua Tree.
Suburban Legend [Golden Yellow LP]
$24.98 24.98
As a band, Taryn and Austin's journey happened both unexpectedly and fortuitously. At the start of the COVID pandemic, Austin and his wife moved back into his parents' house, where Taryn was also living at the time. Faced with nothing but time, he got back to songwriting, regularly asking Taryn for input — or as the two playfully put it, "Gen Z quality control.

"The immediate result of their musical partnership was the pop-punk/alternative anthem "Who's Laughing Now," which leads with wry, tongue-in-cheek lyrics about the futility of young adulthood in 2023. After posting an unfinished version of "Who's Laughing Now" on TikTok, it swiftly took off, galvanizing thousands of viewers who shared their coming-of-age frustrations. Clearly, the song's sentiments - which land somewhere between a shrug and a clenched fist - resonated with millions of listeners, and today Durry have recorded a fully fleshed-out version of "Who's Laughing Now," which is set to appear on their riveting, perfectly sardonic debut LP, Suburban Legend.

Whether Suburban Legend is tackling romantic love, late-stage capitalism, mental health woes, or teen nostalgia, the thread tying it all together is its utter relatability. Regardless of where you are in life — city or suburbs, school or work, or pursuing a creative dream of your own — Durry will meet you there with a wink and a high five.
Killer In Stereo: Good Rockin' Tonight [RSD Essential Indie Colorway Milky Clear w/Black Ice Splatter LP]
$34.99 34.99
Indie Exclusive * From the rock and roll revolutionary responsible for hits like "Great Balls of Fire" and "Whole Lotta Shakin' Going On" comes a collection of remastered rare stereo mixes from the Sun Records archive. Jerry Lee Lewis, considered one of the last standing original rock and roll stars when he passed away in 2022, rocks and rolls his way through multi-track takes of songs like "Money" and "Ramblin' Rose," featuring his versions of hits like "What'd I Say" and "Be Bop A Lula."


STRUGGLER [Indie Exclusive Limited Edition LP]
$27.98 27.98
Genesis Owusu returns with the highly anticipated sophomore album, STRUGGLER. On the back of the critically acclaimed debut album, Smiling with No Teeth, that put Genesis Owusu on the global map, a new chapter begins on May 18 with the lead single Leaving the Light. A fervent anthem about survival and perseverance, Leaving the Light, sets an urgent tone for the new album. STRUGGLER explores the chaos and absurdity of life, and our ability to endure. Where Smiling With No Teeth was all about the battle (against depression and racism), STRUGGLER is about how to get through the struggle. The album was inspired by Owusu witnessing a close friend hitting the bring and coming through the other side. The experience, alongside reading Beckett's Waiting for Godot and Kafka's Metamorphosis, found Owusu questioning life and finding beauty in the struggle.
Golden State [Indie Exclusive Limited Edition Olive Green LP]
$24.98 24.98
Golden State, the second full-length from singer/songwriter Logan Ledger, marks a stylistic departure from the timeless country noir of Ledger's critically lauded debut. This time around, Ledger worked with producer Shooter Jennings, dreaming up a lush and spirited sound partly inspired by the California country-rock scene of the late-'60s and early-'70s. The result is a sublime setting for Ledger's layered meditations on loss and despair and the search for transcendence.
Sea Of Mirrors [Indie Exclusive Limited Edition Multicolor LP]
$26.98 26.98
Imagine the scorched sand, cardboard cowboys, and flooded sets of a never-made Italian spaghetti western, Wild Bird takes Coral fans to the clapperboard on a new story playing out all the way to the release of the band's 11th studio album, Sea Of Mirrors. Following acclaimed album, Coral Island, the band felt inspired to create material: Sea Of Mirrors' vivid concept is a blueprint for The Coral to move beyond all expectations once again. Indie Exclusive Multicolor LP.
Holy Joe's Coral Island Medicine Show [LP]
$25.98 25.98
Holy Joe's Coral Island Medicine Show combines murder ballads and death-ditties, love songs and eulogies, songs about drifters, grifters, hobos and killers; featuring a ramshackle cast. Including the likes of Skelly and Granddad, The Great Muriarty and Glaswegian singer Rianne Downey. A love letter to the tradition of the death disc and murder ballad, from Stack-o-Lee to Skeleton Key, and everything in between, The Coral returns to cement their legendary status in British music.
Heavy Rocks [Indie Exclusive Limited Edition Orange 2LP] TMR
$35.99 35.99
Formed in 1992, Boris boldly explores their own vision of heavy music, where words like "explosive" and "thunderous" barely do justice. Using overpowering soundscapes embellished with copious amounts of lighting and billowing smoke, Boris has shared with audiences across the planet an experience for all five senses in their concerts, earning legions of zealous fans along the way. This is the highly-requested, unbelievably-anticipated official vinyl release of Boris's 2002 album and first dive into the stoner rock idiom, originally released in Japan on CD only. Heavy Rocks (2002) is heavy, sure, but fuses sludge, noise, stoner rock and hardcore all together for a deeply bone-shaking and unforgettable trip. For fans of: Melvins, Kyuss, Fu Manchu.
VIEW COMPLETE LIST
Music Releases 09-15-23
Michael [Indie Exclusive Limited Edition Metallic Gold 2LP]
$32.99 32.99
Killer Mike's MICHAEL marks the celebrated MC's first solo project since 2012's critically lauded R.A.P. Music; and serves as an introduction to the totality of Michael Render, a lifelong rap fiend whose consciousness is seeped in the sounds of community that raised him - multiple eras of southern rap flows, Sunday church service, and barbershop discourse.


Good Thing [RSD Essential Custard LP]
$31.99 31.99
Celebrate the 5th anniversary of Leon Bridges Grammy-winning album Good Thing. The limited-edition title features a custard color variant, the original track list, and a bonus track "Naomi" originally released on the 2018 Japan Edition. Good Thing was nominated for Best R&B Album, and the track "Bet Ain't Worth The Hand" won Best Traditional R&B Performance at the 2019 Grammy Awards. 
Electric Sounds [Limited Edition Yellow LP]
$38.98 38.98
From September 15th 2023, a few gears are shifted up again, because the undisputed kings of rock'n'roll are back. "Electric Sounds" will be the name of Danko Jones' eleventh album and it immediately has the feel of a classic. When the wheel turns freely and propels you forward, there's no need to reinvent the damn thing: instead, this band simply hones their craft... and always at full volume. After 27 years of active service, the trio's dedication and intensity continue to grow, and their popularity and notoriety continue to soar. With countless wins and successes under their collective belt, Danko Jones are a band of brothers with little to prove. But what the heck, there are always more people to play for and more electric sounds to sing. In the last ten years, Danko Jones have visibly shifted up a few gears. Since frontman Danko and bassist JC joined forces with drummer Rich Knox, the band's creative fire has blazed brighter than ever. A string of albums - Fire Music, Wild Cat, A Rock Supreme, Power Trio - has led to even more intense touring and tireless dedication to the cause of rock. "Electric Sounds" is the best proof that even a global pandemic couldn't stop Danko Jones. From the chutzpah of opening track Guess Who's Back and the muscular new-wave strut of Good Time to the title track's promise of "smash a thousand guitars tonight!" and the edgy, squinty stomp and jolting bullseye of Stiff Competition's chorus, "Electric Sounds" is a deceptively diverse affair. No band has ever sounded as ready to hit the road as the pumped-up threesome that showcases on hellish rages like Eye For An Eye, What Goes Around and the murderous closing track Shake Your City. Guest appearances by Tyler Stewart (Barenaked Ladies) on She's My Baby, Damian Abraham (Fucked Up) on Get High and guitarist Daniel Dekay (of Canadian thrash legends Exciter) on Electric Sounds round out the picture with snotty gusto. "Hopefully we'll get to tour with this record and people will come," Danko says. "I'm always pleasantly surprised when there's an audience in front of us every night. I've heard Ozzy worry to this day if people will come to the gig, and I can kind of understand that attitude. But you know what We just played Wembley Arena! That's a check mark on the bucket list. I'm proud to say that this band has played Wembley Arena, Maple Leaf Gardens, Moscow Stadium and CBGBs. And really, every time we put out a new studio album, it's our biggest success. This album is number 11 and we're already on our way to number 12!"Ltd. Edition 1. 000 units


CMF2 [Indie Exclusive Limited Edition Neon Violet LP]
$34.98 34.98
The sophomore album from 11x Platinum-certified, 43x Gold-certified, and GRAMMY®-winning rock icon COREY TAYLOR ."I have no fear when it comes to music. None," Corey Taylor declares. "It feels so good to really lean into the things that I've been chomping at the bit to do." Those "things"? The 13 diverse, unforgettable songs on CMF2, ranging from the punchy, timeless first single "Beyond" to "Someday I'll Change Your Mind," a soaring, sentimental stunner with an infectious chorus. The songs move seamlessly from the punk rawness and anthemic rallying cry of "We Are The Rest" to the acoustic lament "Breath Of Fresh Smoke" to "Post Traumatic Blues," which has a wild sensibility that echoes the lyrical topic of PTSD.
Milk Cow Blues [2 LP]
$37.99 37.99
Milk Cow Blues is the 48th studio album, released in 2000, by American country music singer Willie Nelson. It contains several duets and musical collaborations with artists such as B. B. King and Dr. John. Available for the first time on vinyl. 180-gram 2 LP.


Silence Between Songs [LP]
$24.98 24.98
Silence Between Songs is Madison Beer's second major label full length release and a sonic departure from her previous efforts. In the artist's own words "This album is more of a memoir. It's not really about one specific event, but more about specific things that have shaped me into the person that I am today."  Featuring the singles "Home To Another One," "Dangerous," "Reckless," and "Showed Me (How I Fell In Love With You)," a beautiful interpretation of the Turtles classic "You Showed Me".
World of Hassle [2LP]
$42.98 42.98
"Alan Palomo (fka Neon Indian) is making his return this year with the brand new album World of Hassle. As Neon Indian, Alan most recently released VEGA INTL. Night School in 2015 and Era Extrańa in 2013. His 2009 debut record Psychic Chasms not only earned the musician a spot on numerous year-end lists, but assisted the forming of a genre that, though known by a few names now (hypnagogic pop, glo-fi, chillwave), summoned a very unique and specific electro-mangled sound.

Palomo's World of Hassle is a Pynchonesque place, packed with characters and situations rendered in dreamily absurdist strokes—guerilla freedom fighters camped out in a Rainforest Cafe in "The Wailing Mall," a crumbling ex-pop star in "The Return of Mickey Milan," the Leisure Suit Larry-does-Ibiza fantasy of "Nudista Mundial '89" (featuring Mac DeMarco, who hosted some of the album's sessions in his home studio). It's parody, sure—of rock star ego trips, the mall-ification of America, and our own self-obsession, even on the brink of apocalypse—but it's also dead serious, the sound of history repeating itself as the Doomsday Clock clicks past its Reagan-era maximum and nuclear anxiety comes back into style along with digital synthesizers and sax solos. The deeper it pulls you into its own uncanny reality, the clearer it becomes how thin the borders are between Alan Palomo's World of Hassle and our own."
VIEW COMPLETE LIST
Music Releases 09-22-23
Beauty In Death: Reissue [Indie Exclusive Limited Edition White LP]
$24.98 24.98
Amassing over 350 million streams domestically and receiving acclaim from Billboard, OnesToWatch, mxdwn, PopCrush, Alternative Press, Substream Magazine, and Rock Sound of which they graced the cover, this Australia-born and Los Angeles-based trio boldly push forward again on Beauty In Death, their debut for Fearless Records.


Southern Star [Indie Exclusive Limited Edition Coke Bottle Clear LP]
$23.98 23.98
The American south isn't just Brent Cobb's home. It's his muse, too. A Georgia native, he fills his Grammy-nominated songwriting with the sounds and stories of an area that's been home to southern rockers, soul singers, country legends, and bluesmen. Cobb has a name for that rich tapestry of music — "southern eclectic" — and he offers up his own version of it with his newest album, Southern Star. 

"Down here, there's a lot going on and there's nothing going on at the same time," he says. "You've got all these different cultures in the south, and everything is mixed in together. Otis Redding and Little Richard were from the same town in Georgia. So were the Allman Brothers. James Brown and Ray Charles grew up right down the road. All these sounds reflect the South itself, and that music has influenced the whole world. It's definitely influenced mine."

Filled with country-soul songwriting, laid back grooves, and classic storytelling, Southern Star distills the best parts of southern culture into 10 of the strongest songs in Cobb's catalog. He began writing the material after leaving Nashville — where he spent a decade releasing solo records like 2016's Shine On Rainy Day (which earned a Grammy nomination for Best Americana Album) while penning hit songs for Luke Combs, Miranda Lambert, Little Big Town, and dozens of others — and returning with his family to Georgia. It was a time of change. Not long after celebrating the arrival of his second child, Cobb found himself mourning the death of his longtime friend, Jason "Rowdy" Cope of The Steel Woods. 

"Rowdy was like my older brother," says Cobb, who named Southern Star in part after a small-town bar that he and Cope used to frequent. "He loved the music that came out of Georgia, and he helped me appreciate it even more. A lot of artists like to branch out and become experimental as their career continues, but I sort of go the opposite way. I feel like I can never go wrong if I continue to get closer and closer to the core of who I am and what I love, musically. Coming back to Georgia helped me with that. Southern Star is the sound of me getting closer to the source."

Don't let Cobb's breezy songs about rural life fool you. There's some serious complexity lurking beneath the surface. At first glance, "It's a Start" unfolds like the soundtrack to a leisurely afternoon in the south, with Cobb singing the praises of crawfish, barbecue, and day-drinking. Dig deeper, though, and the song reveals itself to be something more universal: a reminder to appreciate the small things in life, stay mindful, and chase down new horizons at your own pace. To Cobb, there's something distinctly southern about that message, too. "Sometimes, there ain't shit going on down here," he says with a laugh, "but since there's nothing else to do, you learn to be laid back. You learn to use your imagination, and you wind up imitating your surroundings. These songs sound like the place that inspired them. On 'It's a Start,' when the organ comes in, it reminds me of the sound of the cicadas and frogs you hear in the springtime."

Cobb doesn't just imitate his surroundings with Southern Star. He immerses himself within them. To record the album, he headed to Macon and set up shop at Capricorn Sound Studios, where artists like the Marshall Tucker Band, Charlie Daniels, and Percy Sledge once roamed the halls. "I decided to use all local musicians," says Cobb, who self-produced the album with help from Oran Thorton. "I wanted Southern Star to shine a light on the southern players who are still living and working in Macon. Everyone on the album is a Georgia native apart from Jimmy Matt Rowland, who plays keys, and Oran Thornton, my engineer and co-producer. That's it. I wanted to capture that 'southern eclectic' sound on this album, and I don't think you can capture it without being in it."

Eclectic, indeed. Track like "Devil Ain't Done," "Livin' the Dream," and "On't Know When" dish up greasy servings of country-fried funky-tonk, while "Patina" and "Kick the Can" evoke the unhurried sounds of 1970s folk music. "When Country Came Back To Town" even shifts its focus to Los Angeles (where Cobb recorded his indie debut, No Place to Leave, with producers Shooter Jennings and his own Grammy-winning cousin, Dave Cobb) and Nashville. The song is a salute to the unsung heroes of the music communities in both cities, laced with shout-outs to Nikki Lane, Hayes Carll, and others. "It's about the friends I've made along the nearly 20-year-old path it's taken for the independent country movement to grow into what it is today," he adds. 

During the months leading up to Southern Star's release, Cobb spent much of his time on the road, playing to stadium crowds of 60,000 people as Luke Combs' opening act. Perhaps that's why Southern Star feels so well-timed. Not only is it a snapshot of an artist at the peak of his songwriting abilities; it's also a love letter to his southern roots, made all the more potent by his recent travels. 

"You know how when you're growing up, you're told that if you ever get lost out there, look for the northern star to help find direction back home?" he asks. "Well, I'm from Georgia, so I always look for the southern star. This album, the songs, the sounds… they're all a product of where I'm from, both musically and environmentally. Historically and presently, that area also happens to be the same place that cultivated a good many of the most influential artists in the whole world of music. Music as we know it would not exist without the American south. It's funky and sentimental. It's simple and complex."

With Brent Cobb, the southern star shines on. 
VIEW COMPLETE LIST